Any entrepreneur will tell you that starting a new business is expensive. Because You'll end up forking out cash for a website, software to manage your email, your sales funnel, your calendar, and then even more software to connect everything! Right?
Worse yet, you don't even have a say in the matter because, well, you need it!
Today, we're introducing one tool to rule them all, named Vonza.
Vonza is a great and powerful platform to create, market, and sell all of your online courses, physical and digital products. You can also create your sales funnel, even the membership, and e-commerce website. Suppose you are familiar with Clickfunnels, Kajabi, and Kartra, which are very expensive. In that case, the good news is you can use Vonza to get all the features of Clickfunnels, Kajabi, and Kartra. Because
Vonza is the alternative of Clickfunnels, Kajabi, and Kartra.
It's ideal for entrepreneurs, solopreneurs, coaches, and course creators looking to take their business online with a no-code drag & drop simple-single platform.
In this article, we're talking about Vonza: the online platform for building and designing websites, sales funnels, and selling your products, courses, and memberships.
Vonza's like the Swiss Army Knife of online business software. It's simple, practical, and has all the tools you need to cut through the jungle of online business.
Vonza at A Glance:
The founder, Uyi Abraham, put a lot of thought into making the design and functionality super intuitive, even if you've zero tech skills or coding know-how.
With Vonza, setting up a website, a landing page, or sales funnel is now the easiest thing you'll ever have to do in your business. Everything is drag-and-drop, so you can visualize what you're doing, organize your flows, and make changes at will, entirely on your own.
Plus, you get to create forms, book calendars, and manage your emails inside Vonza, so your workflow is entirely streamlined! Add that to Vonza's powerful Commerce toolkit, and you've got everything you need to make more money online. Vonza lets you upload digital products, set up inventory and logistics for physical products, and even host courses and memberships. So no matter what business you're in, what you sell, and what kind of funnels you're building, Vonza empowers you with complete control over every aspect of your marketing and sales cycle.
And check out the overview you get on your dashboard. As soon as you log in, all of your important metrics are right there so you can track revenue, sales, and new users without overwhelming spreadsheets or convoluted reporting. And there you have it! Everything you could ever ask for to build a successful online business or small business, now yours with a lifetime subscription to Vonza!
⮕ Drag & Drop Website Builder:
Do you need a professional-looking website? But what if you don't know how to code? Not a problem!
⮕ Complete Learning Management System (LSM) :
Everything you need to create and sell courses can be done with Vonza. You don't have to pay for LMS if you are a user of VONZA.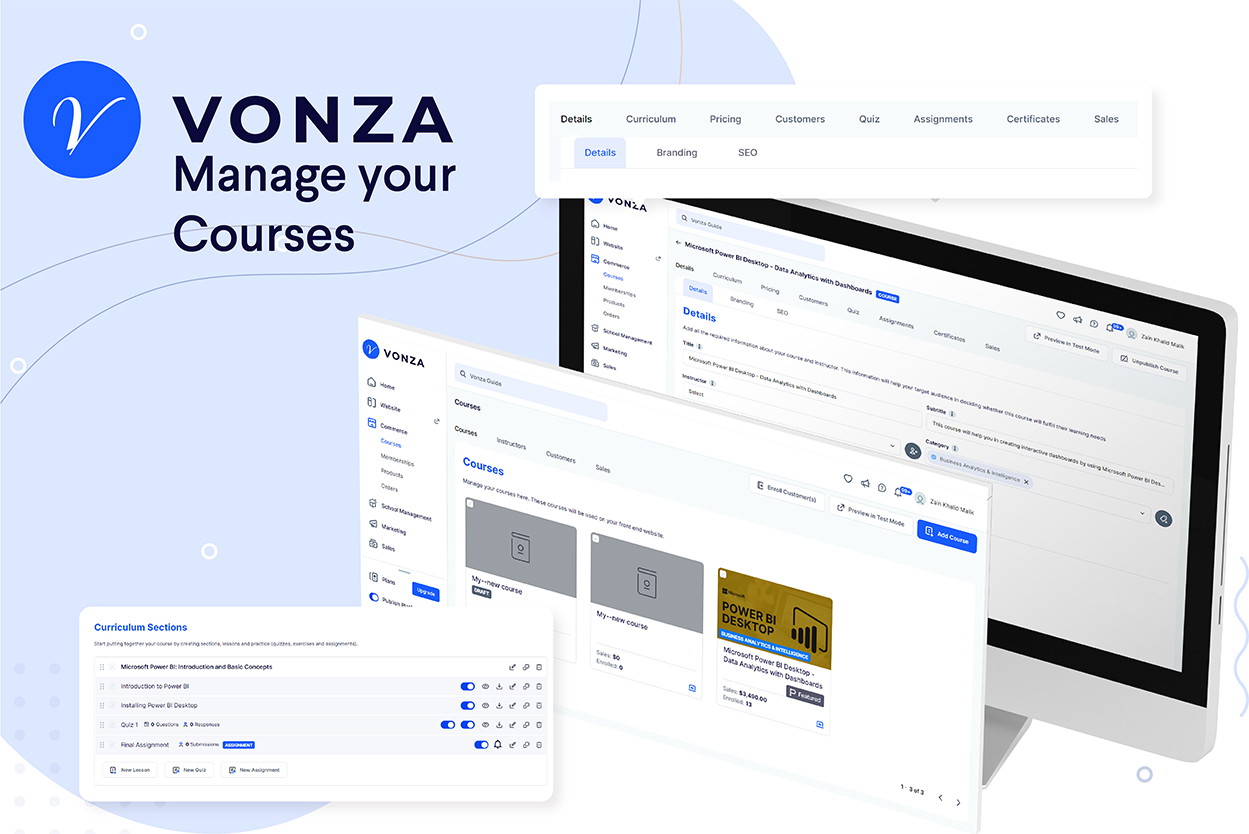 ⮕ Premium Membership Program:
You can lunch a premium membership program on the Vonza platform. And in this way, you can start a passive income stream from your premium members. For that personal touch, you'll be able to communicate and engage with members via discussion threads, texting, and peer mentorship options. So you can easily create a subscription-based community with content to satisfy your target audience in Vonza.
So if you are planning to start your membership site, why are you waiting for? Get Vonza from here and build your membership site within a day.
⮕ Scheduling Meeting:
Vonza supports you to schedule meetings by managing time. Adding the details of the meeting(s) here will help you in streamlining the relevant arrangements. It will also help your staff/users to check available meeting slots, book meetings, invite attendees, and handle other related activities from a single interface. It enables you to schedule free meetings with your team as well as paid appointments with members or clients. Vonza scheduling will events automatically add appointments to your calendar so you can get a complete overview of your meetings.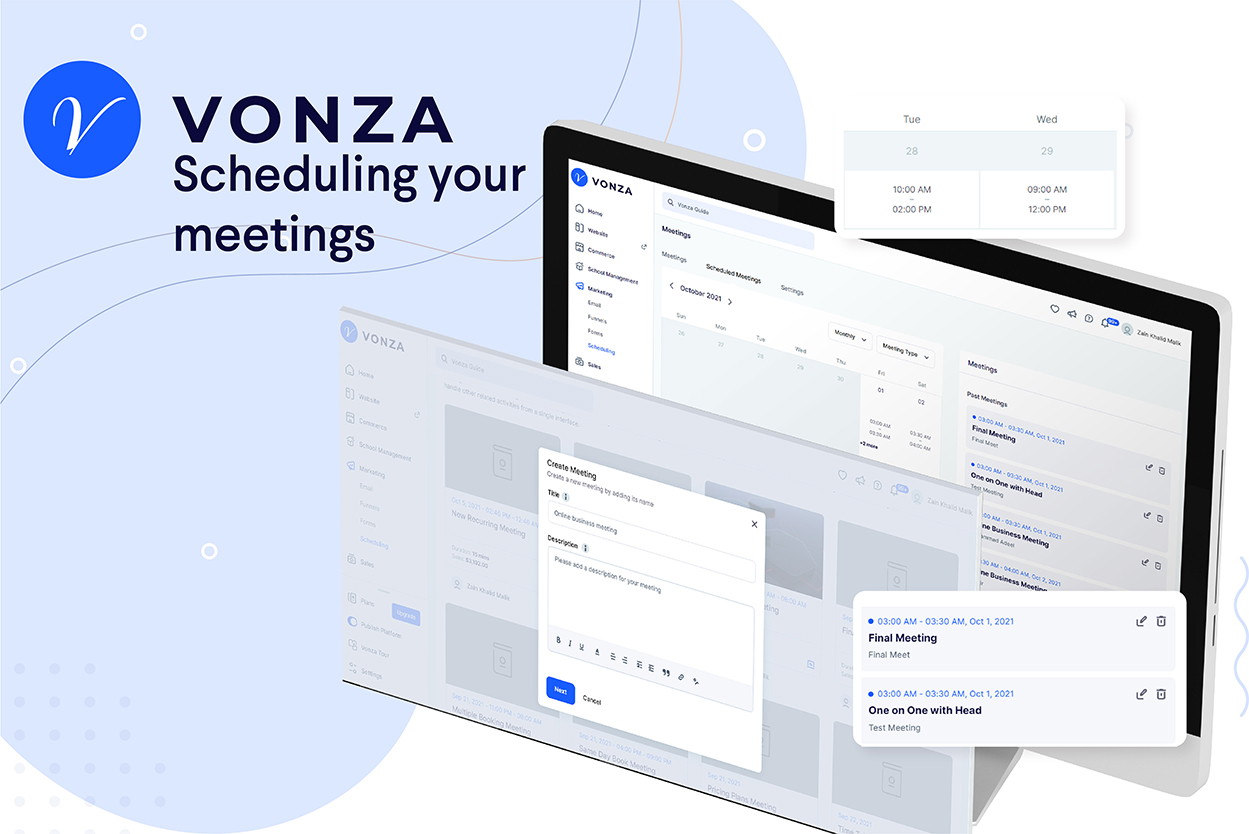 ⮕ Funnel Builder:
Vonza will provide you with a complete advanced funnel builder by which you can build sales funnels for yourself by drag and drop in a few minutes. You don't have to go on other platforms like Clickfunnel and others if you use Vonza.
⮕ E-commerce Website
In Vonza, Create your online store in a matter of minutes. Deliver physical and digital items to your consumers in a seamless manner.
⮕ Website Builder
You are getting a complete website builder without coding. Create a stunning website that links everything in one location. Vonza provides hosting. So no need to buy Hosting from other platforms if you use the Vonza Lifetime Deal.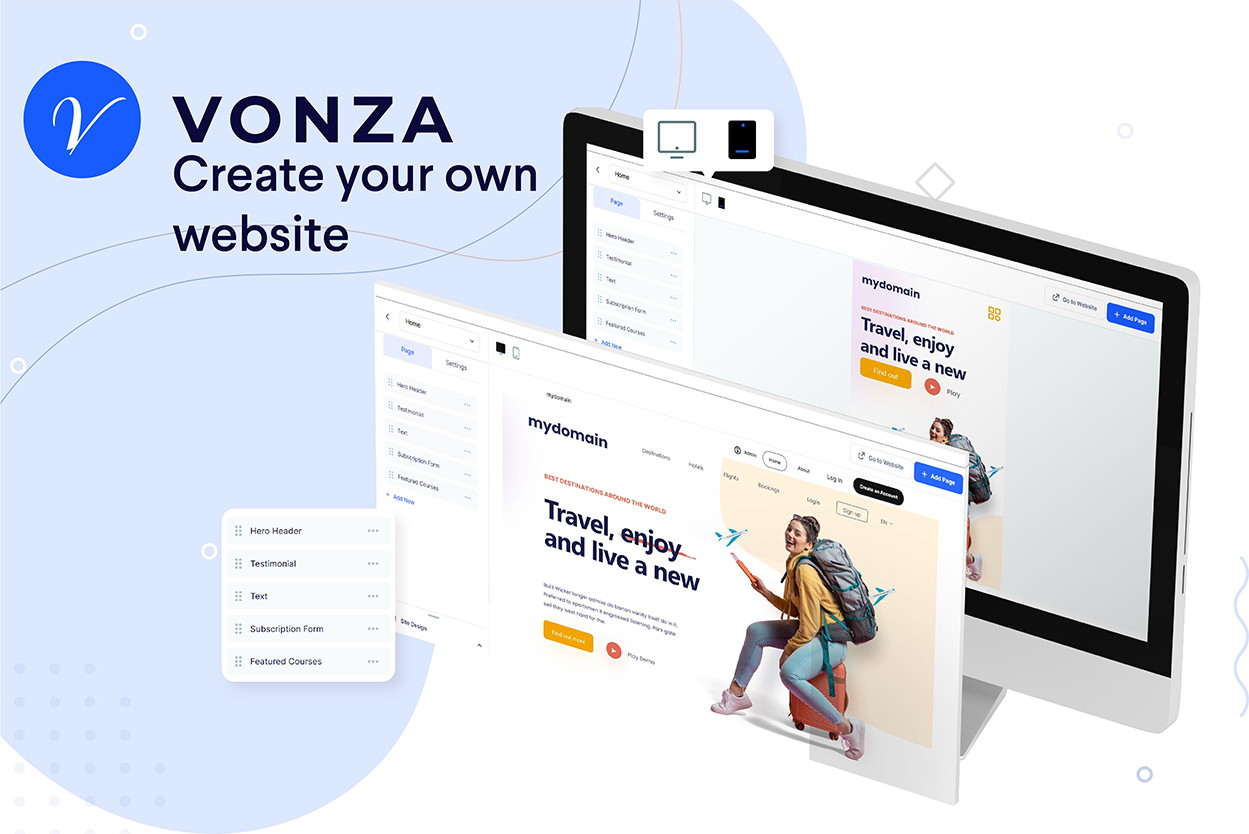 ⮕ Email Marketing:
You can manage your Emails in the dashboard of Vonza. You don't have to go to your Email Dashboard every single time. You can manage your full email chain from your Vonza dashboard. So get Vonza Lifetime Deal now; create and send marketing emails that your target audience will like. Capture the names and email addresses of your website visitors.
⮕ Form Builder:
Vonza has a tremendous and easy drag & drop form builder. By creating forms, you can do a lot more than collect data. Creating forms will help you accelerate your operations and simplify communications with the built-in tools. You can build forms for your business and ask for registration for your webinars, meetings, courses, and other things on this form. So if you use Vonza, you don't have to pay other Form builder platforms; you are getting your professional platforms in Vonza.
⮕ Product Management System: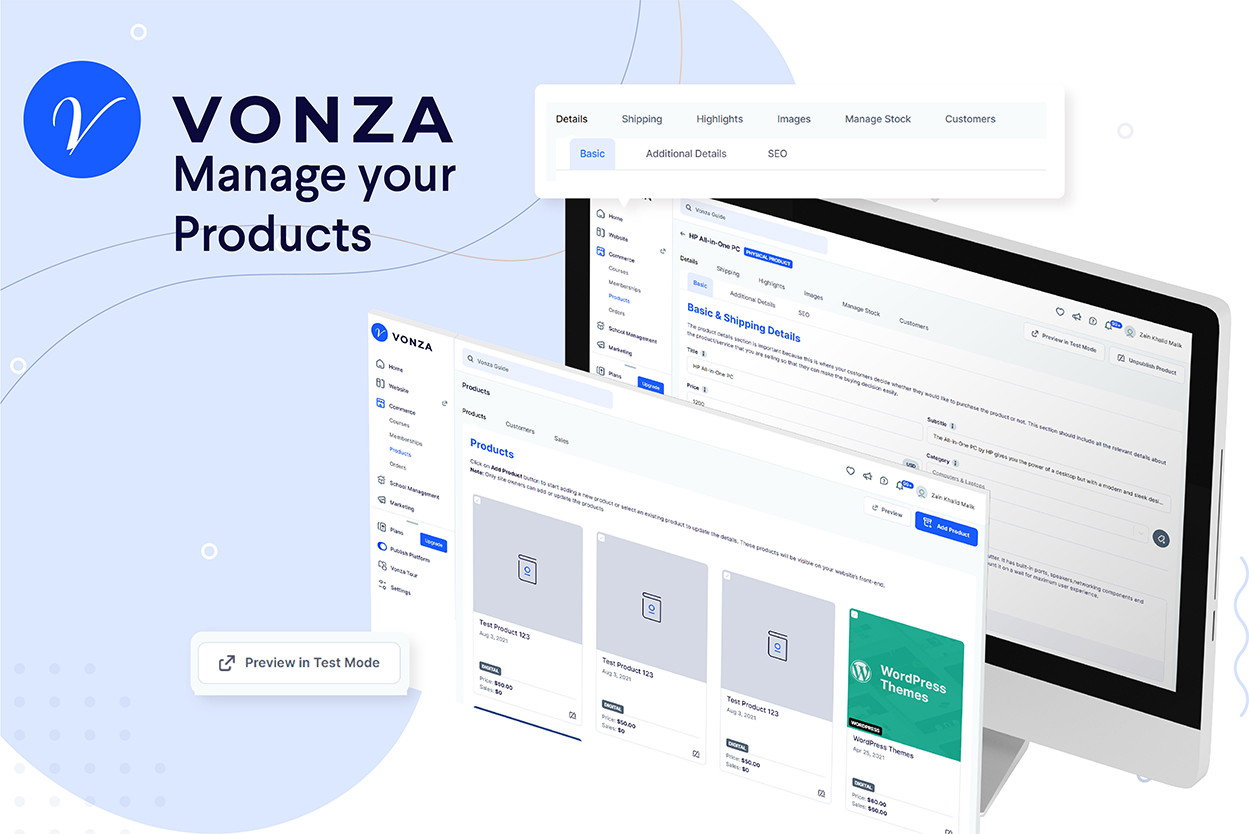 ⮕ Cloud Management System: 
Vonza has a complete cloud management system. So you can store your essential business documents here and use them later without worrying about losing them. And in this case, also you don't have to pay other cloud management systems to store your essential documents. You can always upgrade for more extra space in your cloud management system.
⮕ Pricing System for Your Robust Platform:
In Vonza, you can set many pricing systems for your audience. You can have monthly, Weekly, and Yearly Payments. Similarly, you can set Lifetime Access or Lifetime Plan for your audience. You can set up an installment system and flexible payment system for your audience to pay with relaxation. And you can control the content access according to their payments. So you can launch Lifetime Deals also using Vonza.
⮕ School Management System:
Beyond courses, Vonza provides solutions for schools and universities to assist you in managing higher education degrees, student information, personnel, professors, admissions, transcripts, and more.
⮕ Analytics:
Vonza has its own analytics system where you can see all your conversion data and upcoming income from your subscribers and students. Also, you can use Facebook, Google, and other social media services analytics such as you can set up Facebook Pixel and Facebook Conversion API in Vonza. You can set up Google Tag Manager in Vonza. And by connecting GTM in Vonza, you can easily connect other platforms analytics.
Vonza is a Money Saver for Your Business:
Because –
You can replace 12+ tools if you use just Vonza. It does not require to use of any other additional apps.
Vonza is the Biggest Time Saver for Your Business:
Because –
So with Vonza, a lot of work is getting reduced and tons of time is saved from your life, right?
So what are you waiting for? Vonza is saving both your time and money.
But Wait!!
Vonza is offering Lifetime Deal right now on Appsumo.
Vonza Lifetime Deal Pricing:
In Appsumo, Vonza has launched its lifetime deal. You can get Vonza Lifetime Deal from Appsumo starting from $99 right now.
Features in Vonza Lifetime Deal:
One Time Purchase of $99 features:
Frequently Asked Questions:
Is there a money-back guarantee in Vonza Lifetime Deal?
Yes, of course. You are getting 60 days money-back guarantee in the Vonza lifetime deal from Appsumo, no matter the reason. So buy it today and use it for the next 60 days. If you think it is not really useful, you can refund your full money within these 60 days.
Is it possible to get a free trial of the Vonza Lifetime Deal?
Both yes and no. Actually, you need to purchase it before, and you may use it for 60 days. If you don't like it after 60 days, you can get a refund without giving a reason. So it's sort of like a free trial,right?
How can I get 10% discount coupons to buy Vonza Lifetime Deal?
Follow the procedures —
Conclusion:
The Vonza Lifetime Deal is a $99 deal that allows you to manage all types of projects using one tool. So Vonza is an all-in-one tool. It replaces almost 12+ tools. So you don't have to pay and use all these 12 tools if you use Vonza. And you don't have to pay Vonza every month if you are a Vonza Lifetime Deal user. This means that you can use the same tool to plan, document, and communicate with your clients and students. You can also use the same tool to manage your time to not have to use different tools for different tasks.
⮕ For other amazing deals, reviews visit our Deals Review Page.