It has never been easier to create content. However, artificial intelligence copywriting makes it more accessible to us. But can an AI writer actually give you SEO-optimized content? The answer is, it depends on which ai writer you have chosen.
Some ai copywriters just write, they don't care about SEO. But some do both writing and SEO. So why not choose the ai tool that will do both writing and SEO for you?
Here's an AI content writer tool that can help you create scalable SEO content for your next blog.
What is Thundercontent?
ThunderContent is a content writing tool based on Ai that allows you to create high-quality SEO-optimized content in minutes.
You may write well-thought-out, high-quality content, blogs, or online content for any of your niches.
ThunderContent is the alternative of Jarvis, Scalenut, WordHero, Rytr, Texta ai.
How ThunderContent Works?
Thundercontent applies artificial intelligence to help you in creating original articles on any topic at the speed of light to enhance your content strategy. Get rid of writer's block. Thundercontent's algorithm leverages the keywords you specify to create powerful, engaging, and unique articles or web copy on themes that will drive visitors to your brand.
Simply enter a keyword to produce web content with a title, outline, and introduction for which you want to rank on Google or other search engines.
Writing high volume content in a huge quantity is now easier than ever thanks to the tool's advanced AI-powered writing helper and clear text editor.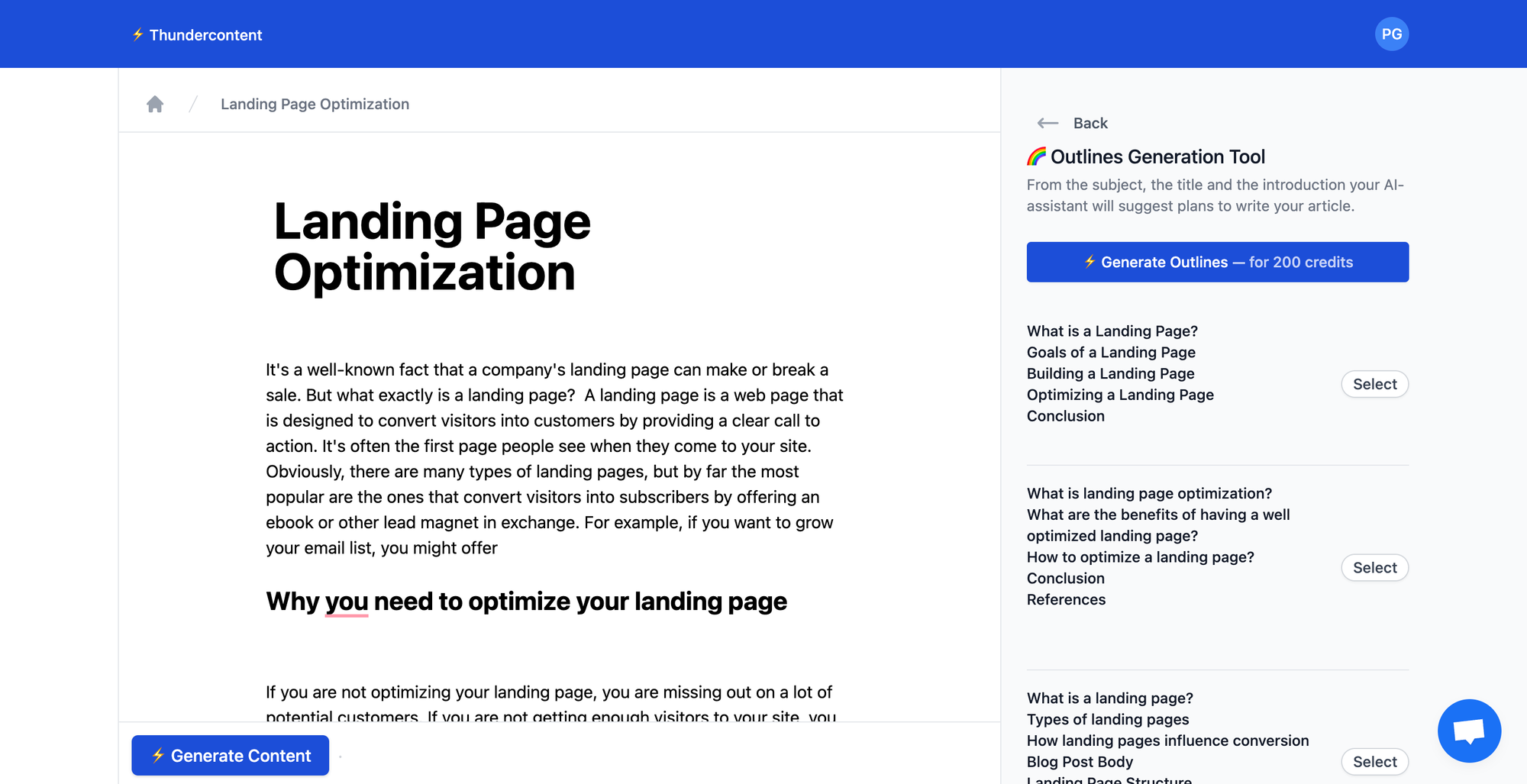 Create New Article
Begin a new article or update an existing one. Use an editing tool built for both experienced and inexperienced writers. Except for the joy of writing, there are no distractions. There are no limits to writing; if you want to write one paragraph, you may do so; if you want to write a book, you can do so as well! And always on any subject in any language.
Write normally
Type your article in your personal text editor. When you need assistance, simply press the tab or click the create button. And boom, your own AI assistant will write with you, no matter what topic you choose to discuss. There will be no more blank page syndrome, whether you are an experienced editor or a novice.
Your article should be exported
If you wish to have your content checked by a coworker or publish it, you simply export it in the format of your choosing, such as PDF, Text, Markdown, or HTML, and it will be ready to post on your blog or website.
Language Support in ThunderContent:
You can write almost 25 languages in ThunderContent which you will not get any other ai writing tools currently in the market. Currently supported languages in ThunderContent are:
English
Bulgarian
Chinese
Czech
Danish
Dutch
Estonian
Finnish
French
German
Greek
Hungarian
Italian
Japanese
Lithuanian
Latvian
Polish
Portuguese
Romanian
Russian
Slovak
Slovenian
Spanish
Swedish
More language will be added in the future!
Thundercontent Features
Text Editor
ThunderContent not only has an AI writer but also includes a Text Editor that allows you to customize the format of your article.
Title header tags (h1, h2, h3, h4, h5, h6), bold tag, italic tag, and other formatting options are available.
As a result, you don't need to add any extra formatting hassle when posting your material on the website.
Ai Powered Writing Assistant
ThunderContent's AI-powered writing assistant assists you in creating original SEO-friendly articles for your websites.
In less than a minute, ThunderContent will develop audience-engaging material automatically.
Text to Speech
ThunderContent not only generates high-quality SEO-optimized unique content for you but also generates professional voice-over speech in almost 25 languages for your blog article. So if you write an article and then if you need a voice-over for the article or your content marketing copy, you don't have to go for other text-to-speech tools. You can do all the things inside ThunderContent. You are getting a fully-featured text-to-speech generator tool in ThunderContent.
Generally, AI writer's tools do not provide text-to-speech tools with it. So it will save you money also.
Export Your Article in various Formate
Your files can also be simply exported into a number of useful formats such as .txt, .pdf, .HTML etc.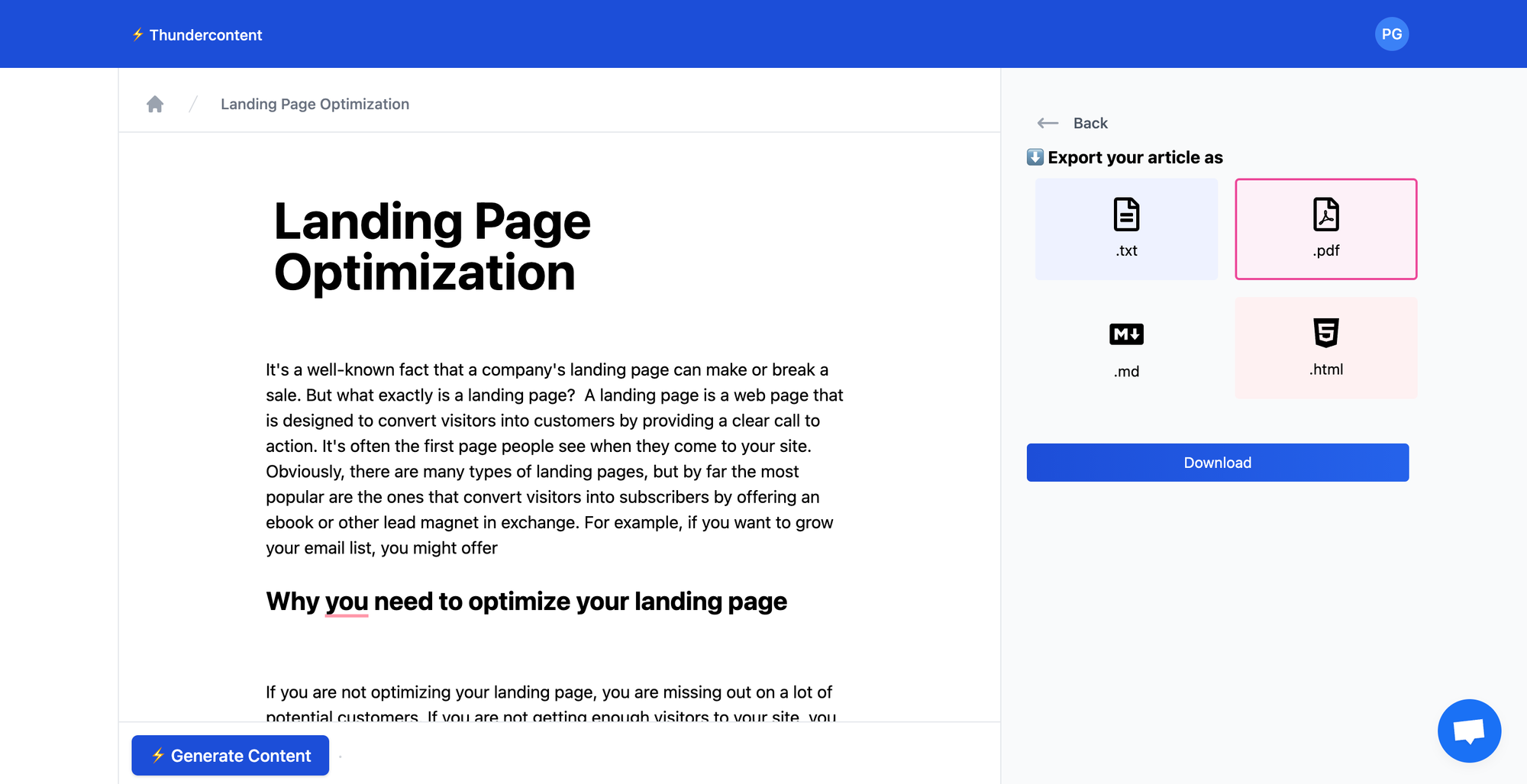 Instant Translation
ThunderContent allows you to produce content in 25 languages, which will be useful for your local language material.
You don't have to sacrifice language, syntax, or tone substance.
Feel free to translate your material with a few mouse clicks.
Article Blog Idea
Do you need content ideas for your niche website? Not to worry! Simply enter your keyword and press ENTER!
In minutes, ThunderContent will recommend an SEO-friendly blog posts title and dozens of thoughtful blog posts ideas.
You will receive 25 linguistic options to assist you in selecting the finest title and blog concept for your next article.
Endless Writing
There is no limit to writing in ThunderContent. Write infinity amount of words. You can generate an unlimited number of projects in ThunderContent. Every project is one article. If you are a blogger who is in content creation like amazon affiliate and others, you can write amazing product descriptions in ThunderContent in a simple way.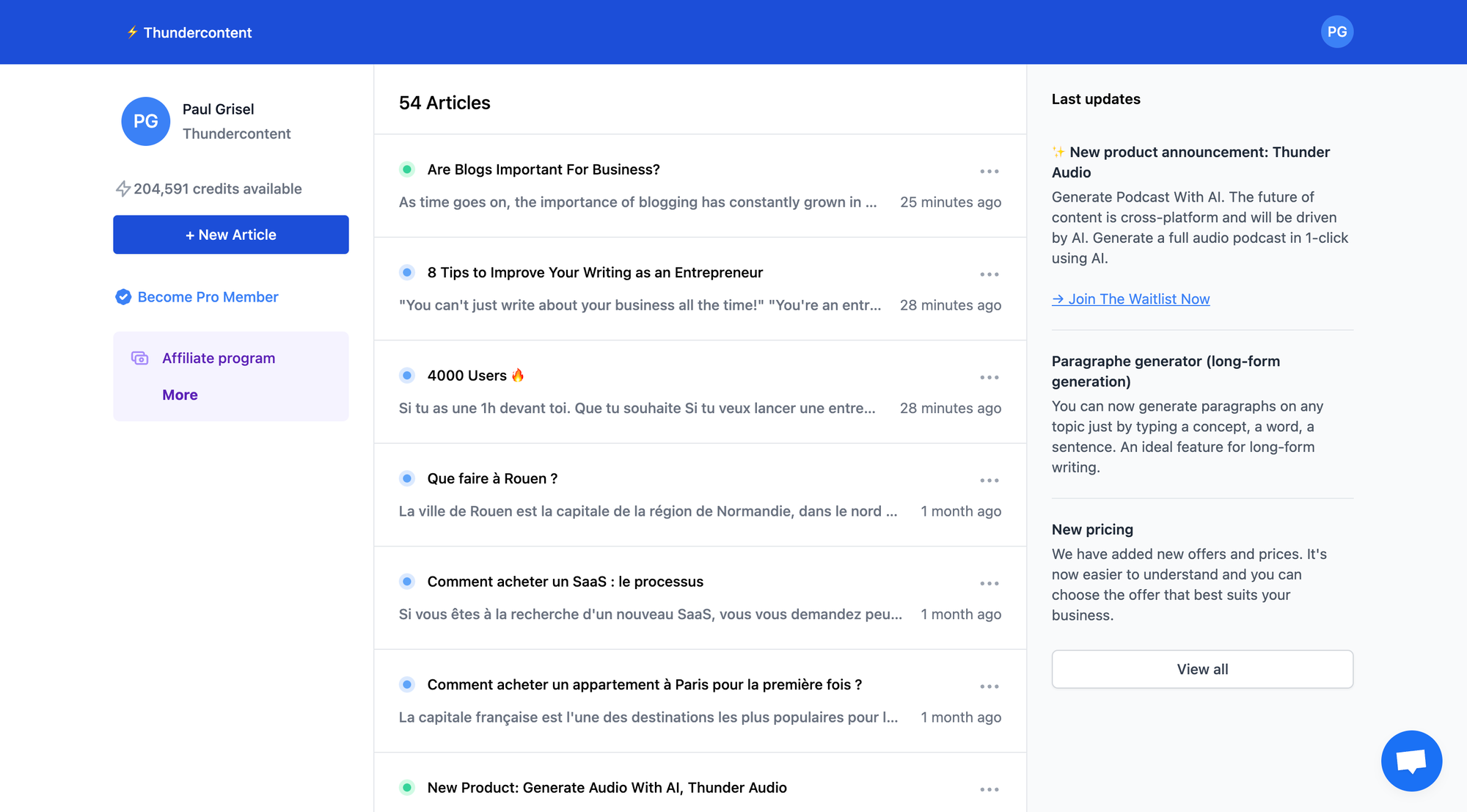 .
Who Must Use ThunderContent?
Content Strategies
SEO Agencies
Bloggers
Startups looking to automate all their writing tasks
A small business owner who needs to generate an article
Voice Over Artists
Marketer
Thundercontent Regular Pricing
But we have a Lifetime Deal offer for you!!
Thundercontent Lifetime Deal
ThunderContent is running a Lifetime Deal offer in Appsumo now for a limited time.
Plans and Features
Deal Terms
Lifetime access to Thundercontent
All future Expert Plan updates
No codes, no stacking—just choose the plan that's right for you
You must activate your license within 60 days of purchase
Ability to upgrade or downgrade between 2 license tiers
GDPR compliant
Only for new Thundercontent users who do not have existing accounts
60-day money-back guarantee, no matter the reason
Features Included in All Plans
Generate Unlimited words in Tier 2
AI writer assistant
Idea blog post generation
Intro blog post generation
Outlines blog post generation
Clean text editor
Export in TXT, PDF, MD, and HTML file formats
Article with HTML semantics
ONE-TIME PURCHASE OF Licence Tier 1 $59.00 $1170.00 
Lifetime access to Thundercontent Unlimited Plan
Everything Unlimited Plan Features +
1 user
10,000 words per month
LICENSE TIER 2 $139.00 $2805.00
Everything License Tier 1 Feature +
Unlimited words per month
Unlimited users
Invite members
What are some alternatives of ThunderContent?
Jarvis
Jarvis is one of the best alternatives of ThunderContent. But they don't provide text-to-speech features with them and also don't provide SEO optimization features. You can get 10000 words of free credit in Jarvis if you log in using this link.
Scalenut
Scalenut is also a very good ai copywriter. They provide NLP terms for your blogs that will optimize your blog article but they do not provide text-to-speech features. They are a bit expensive too. You can get Scalenut from here.
WordHero
Wordhero is a ai copywriting tool growing so rapidly. You can get WordHero from here. It's an alternative to ThunderContent.
Rytr
Rytr is best to generate an outline. If you want an extraordinary outline for your blog article without researching your competitor's articles then use rytr. It will save your valuable time. But ThunderContent has an inbuilt outline generator inside it.
Texta Ai
Texta ai a newcomer in the world of Ai Copywriting. You can try it also. You can view my Review article on Texta ai from here.
Frequently Asked Questions
Q: Is there any other way to get free content from ThunderContent besides buying their product?
Actually, you have to buy. Because to generate ai content, companies need to pay for GPT 3 or Open ai. So without paying, companies cannot survive. So if any website offers you free ai content, my suggestion is not to go for it. Use a premium ai copywriter to generate high-quality unique content.
Q: What are the benefits of ThunderContent Lifetime Deal?
You are getting ThunderContent for a lifetime. So you don't have to pay for every month. You can buy one time and use it rest of your life to generate unlimited words for your blog.
Q: How to get a 10% Discount in ThunderContent Lifetime Deal in App Sumo?
Follow the procedures —
Step 1: To begin, click here, which will take you to the product page.
Step 2: After a few moments, you will see a pop-up with a 10% discount coupon.
Step 3: In the pop-up, enter a new Email address that you have never used in Appsumo.
Step 4: After submitting, take a few moments to check your mails [both Promotion and Inbox].
Step 5: You will receive an email from Appsumo with a unique PROMO CODE for a 10% discount on ThunderContent Lifetime Deal.
Step 6: Next, sign up for an Appsumo account using the same email address, and then click the "Buy Now" button on the ThunderContent Lifetime Deal product page.
Step 7: You will be sent to a page where you can enter your promotional code. Simply enter your coupon code below to receive a 10% discount right now.
So if the main price of ThunderContent Lifetime Deal is $59, after getting a 10% discount, you can buy it for $53.1 for your Lifetime.
Q: Is there a money-back guarantee in ThunderContent Lifetime Deal?
Yes, of course. You are getting 60 days money-back guarantee in the ThunderContent lifetime deal from Appsumo, no matter the reason. So buy it today and use it for the next 60 days. If you think it is not really useful, you can refund your full money within these 60 days.
Q: Is it possible to get a free trial of the ThunderContent Lifetime Deal?
Both yes and no. Actually, you need to purchase it before, and you may use it for 60 days. If you don't like it after 60 days, you can get a refund without giving a reason. So it's sort of like a free trial, right?
Conclusion
ThunderContent scales your content strategy with AI that creates excellent text, allowing you to quickly generate the unique content you require.
Create high-quality material with only a few mouse clicks.