Are you struggling with writer's block whenever you try to start blogging or start writing a blog? It's one of the well-known problems for almost all writers, even for a professional copywriter, blogger, and business owner, to generate great content.
It isn't easy to come up with new ideas when writing for your blog, company or client. You don't want to lose your necessary time and efforts, and let's face it, copywriting can be a pretty tricky process. Here is the solution to this problem.
Texta .ai is a collection of 30+ tools that help you create high-quality content for your blogs, advertisements, emails, social media, and more in the most acceptable method to produce good content.
Texta ai, one of the great and new Al writing tools that allow you to create high-quality blog posts, social media captions, emails, adverts, sales copy, product/SEO descriptions, and more in just a few clicks. Texta ai may also be used for a startup, marketing, content ideas, and even poetry and song lyrics. It is a groundbreaking artificial intelligence (Al) writing tool powered by OpenAl/ GTP-3, a first-of-its-kind autoregressive language model with 175 billion parameters. It saves you hours of writing time by minimizing the amount of time you spend on web research and writing.
Texta Ai is a must-have piece of Al-writing software. Artificial intelligence may be utilized in planning, problem-solving, knowledge representation, learning, reasoning, perception and manipulation, and, to a lesser extent, social intelligence and creativity. It is ideally suited for entrepreneurs and business owners, marketers and social media managers, article writers and copywriters, and anybody who wishes to save time on writing.
👉 Article Generation
I think one of the best features of Texta Ai is Article Generator which is basically something more than a long-form-content generator. In general, among the all ai writer tools available now on the market, no one can generate 1000 words per click. Even Jarvis boss mode also cannot do this. But here comes the Texta Ai article generation feature. Texta ai Article Generation tool can power up your writing and can generate almost 1000 words within less than 1 minute. All you need to do is provide Texta Ai with the Article Title, Article Brief(20-30 Words), and your targeted keywords for which you want to rank on the search engines like Google and others. Texta ai will generate the outline and the full contents for you in no time. Amazing right?
Watch this short YouTube tutorials video on how you can generate almost one thousand words in a minute using Texta ai.
👉 10+ Language Features:
Nowadays, most of the ai writing tools having in the market can write only in English. But Texta support 10+ language such as –
English

French

Dutch

German

Spanish

Polish

Japanese

Chinese

Italian

Russian
And more language will be added in Texta ai in the future.
👉 Outline Generator
You can generate  SERP-based Outlines in Texta ai using artificial intelligence. You don't have to waste time to find what outlines your competitors are using and then generate an outline. Texta ai will do all the things for you.
👉 Blog Ideas
If you are the person who cannot brainstorm new blog ideas, Texta ai is here for you. Its artificial intelligence will help you to generate blog ideas according to your personalized niche.
👉 Title Generator
We are all conscious of the significance of a catchy, insightful, and honest title. Even the great copywriter may struggle a lot of time to fulfil all three boxes at times. Titles should be so appealing that you can't help but read them. You should be able to tell what the article is about just by looking at the Title. A well-thought-out and well-worded headline will always dominate. They should not be hurried, and they should always be honest and focused on the topic of the piece.
Here comes the Texta ai's Title Generator. Texta ai Title Generator helps you to generate your niche-based, insightful, and competition-analyzed Title.
👉 Social Ads Copy Generator
If you are not a blogger, but you run ads for your business, Texta Ai is here for you. You can generate unlimited high-quality and engaging ad copy using Texta ai for your business. Texta ai's social ads copy generator will make your ad stand out from the crowd. How? It has the amazing and specialized features to make your ad copy stand out listed below.
Product Description: Generate excellent product descriptions using this Product Description feature of Texta ai.
Facebook Primary Text: You can craft eye-catchy and attractive Facebook posts' primary text in Texta. You can use this text in your Facebook ads or in your Facebook Group post also.
Twitter Text: Similarly, Texta ai's Twitter Text feature will generate Twitter Text for your Twitter account. Its artificial intelligence will generate the Twitter Text according to the trending topics running on Twitter which will increase your Twitter engagement.
Facebook Listicle: You can create high engageable Listicle for your marketing content using the ai features of Texta Ai. So, showcase your products by using Facebook Listicle and generate them on Texta in no time.
Facebook Headlines: Want to increase your CTR? Create your Facebook Ads headline using Texta ai.
Google Headlines: Similarly, you can create high engageable and eye-catchy headlines for your Google Ads, such as PPC Campaign.
Google Description: Pro copy, pro result! You can generate Google ads descriptions in less than 1 minute using Texta ai.
Linkedin Ads Copy: Capture your B2B lead with a click! You can generate your Linkedin ad copy using Texta ai's Linkedin Ads Copy template.
Other Platforms Ad Copy: For any other kind of ads such as banner ads, billboard ads, Reddit ads, etc., you can generate the ad copy in Texta.
👉 Startup Tools:
Texta offers amazing features for Startup speech. Let's see all the features that are included in Texta ai in the Startup Tools-
👉 Website Copy:
Texta ai helps you to generate your website copies which includes these features-
Subheader Text

Landing Page Hero Text

Microcopy

Meta Descriptions

Question Generator
👉 Sales Copy:
Marketing Strategy: Build your awesome marketing strategy with this feature of Texta ai.
Problem-Agitate-Solution: This feature will generate your sales copy in three steps. In the first step, it will show the PROBLEM to your audience. In the second step, It will make NERVOUS your audience so that they be more attracted to your product to know the solution. In the third step, it will show the SOLUTION of the problem. Basically, it's called the PAS formula, which is one of the most successful formulas for Sales Copy.
Before-After-Bridge: BAB (Before-After-Bridge) is a copywriting strategy based on the idea of guiding someone from a bad situation to a better one with your company. Its goal is to make your product or service attractive to your reader's needs and to urge them to take action. BAB is a tried and true advertising framework for your reader exactly why they need your product. Texta will use this BAB formula to generate your outstanding sales copy.
Feature-Advantage-Benefit: This is the FAB formula that will generate your sales copy by mentioning the features at first, then the advantage and then the final benefit of your product to your customers.
Why/Try/Buy: It will generate the right Call-to-Action for your readers, which will increase your CTR.
AIDPPC: AIDPPC is the extended framework of the AIDA framework. This is basically the "Attention-Interest-Description-Persuasion-Proof-Close" framework. This framework will grab the attention of your product at first, then grow their interest, then describe the features of the product, show the proof and then push your audience for conversion.
ACCA: ACCA stands for "Awareness-Comprehension-Conviction-Action". This amazing framework offers Texta ai, which you will never get in other ai copywriting tools of the market right now.
Also, Texta ai's Sales Copy features more advanced features such as –
QUEST Strategy
Feature to Benefit
AIDA Copywriting
WordHero
WordHero provides a complete suite of 50+ writing tools, with new ones being introduced on a regular basis! It's an alternative to Texta, but it doesn't write the long-form content as long can write the Texta ai. Still, WordHero is also a good copyrighting tool for blogging.
Rytr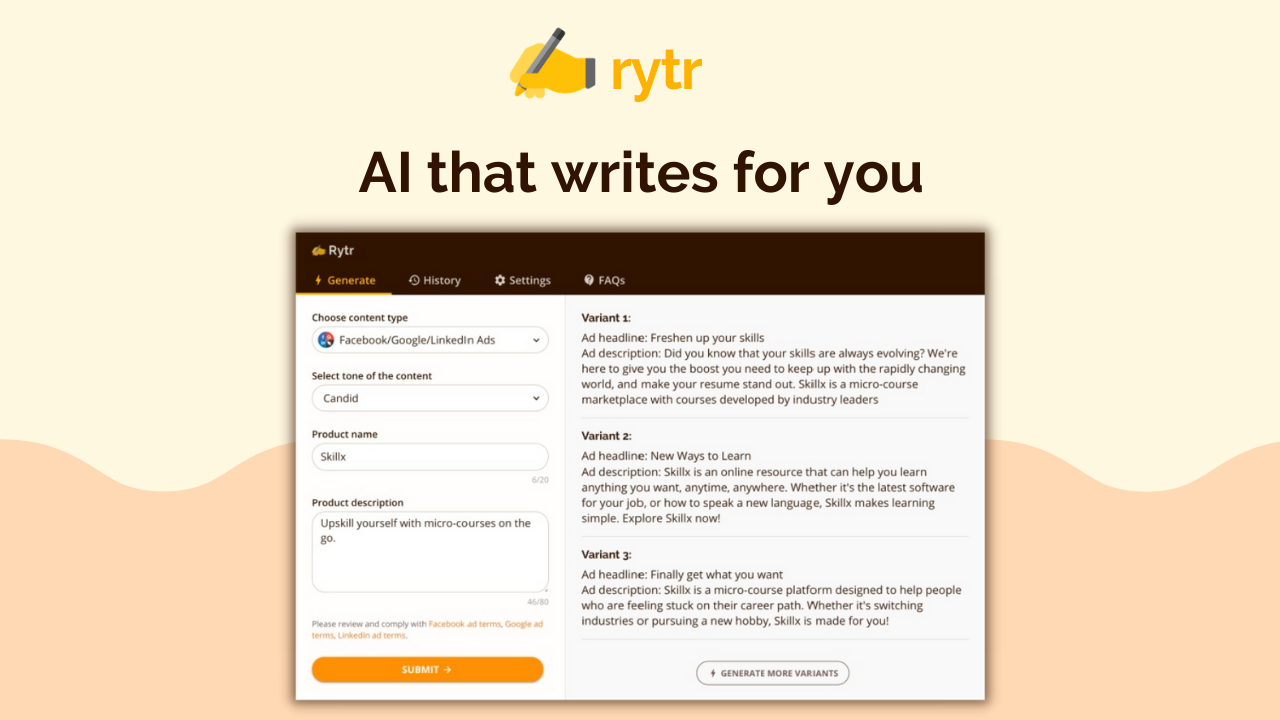 Rytr is best for generating an outline for your blog. It also writes contents long-form and short-form content for your blog. Rytr is one of the most popular Ai copywriting tools for creating distinctive and interesting content. Rytr makes use of gpt-3 AI and other learning techniques to give the finest content to you by exploring and gathering adequate information from the internet. Rytr .me offers your more than 25 tools and 20+ language features.
Jarvis
Jarvis is one of the best content writing tools in the market. It offers 50+ tools along with its Boss Mood. But the problem is the pricing of Jarvis is so expensive for small online business owners. Jarvis does not offer any Lifetime Deal. So if you want to use Jarvis ai, you need to use the monthly subscription model of Jarvis ai. But if you want to use Jarvis, you can use up to 10000 Words for free by clicking here. But Texta ai will help you to generate unlimited words at a lower price.
Scalenut
With its AI Copywriter and SEO Assistant, this SaaS platform for content intelligence helps you power up your content research. It uses ai technology to generate your content, such as gpt-3. They are amazing also in the case of content writing. But if you don't have a huge budget to get Scalenut, go for Texta ai and get lifetime access to Texta ai from Appsumo because the unlimited plan of Scalenut is very expensive for small business owners or bloggers.
Why is Texta Ai Different from Other Content writing tools?
Texta .ai, unlike other copywriting tools, does more than just produce copy for you. It's artificial intelligence that truly learns from your writing style and, in particular, the sort of information you create. So as much as you will write on Texta, your writing will be more speedy and amazing in Texta. Also, Texta .ai allows you to produce interesting text in seconds, whether you're a copywriter, blogger, marketer, or business owner. It's the simplest method to improve your content strategy and wow your consumers and clients.
Blogger

Marketers

Small Business Owners
But wait! We have a great offer for YOU.
Texta Ai is offering its Lifetime Deal for a limited time on Appsumo. So you can get lifetime access to Texta ai for your Lifetime for only $69 with $10 BONUS.
Texta Ai is offering only one tier for the Lifetime Deal offer at $69 now. You can get a $10 Bonus also with it by clicking HERE.
Unlimited Credits Available for LTD users

Topics for blogs, website copy, and social media captions

Access to all of the copywriting tools (more than 30)

Alternatives to CopyAI, Peppertype, Rytr, Copysmith, Closerscopy, WordHero, Scalenut and Jarvis.

Save 90% of your time on copywriting.

Bloggers, marketers, designers, and small companies will benefit the most from this.

Create blog posts, product descriptions, sales latter, and sales copy.

Create catchy, original copy for social media.

Create blog material by brainstorming ideas and writing compelling articles.

Support for almost ten+ languages

Short-form content creation is limitless.

Every month, up to 500 articles, blog entries, and other long-form material are generated (1000 credits)
Frequently Asked Question about Texta Ai:
What is the best AI writing assistant?
After using a lot of ai copywriting tools, for me, the best tools for content writings are:
WordHero

Texta Ai

Scalenut

Jarvis

Rytr
My writing team is using all of them.
Can AI replace content writers?
Short Answer: No
Because nothing can replace the human touch, so ai writers tools can help you to save your time and give you ideas to write, but you have to finalize the writings on your own.
Yes, of course. You are getting 60 days money-back guarantee in the Texta Ai lifetime deal from Appsumo, no matter the reason. So buy it today and use it for the next 60 days. If you think it is not really useful, you can refund your full money within these 60 days.
Is it possible to get a free trial of the Texta Ai Lifetime Deal?
Both yes and no. Actually, you need to purchase it before, and you may use it for 60 days. If you don't like it after 60 days, you can get a refund without giving a reason. So it's sort of like a free trial, right?
How can I get 10% discount coupons to buy Texta Ai Lifetime Deal?
Follow the procedures —
Step 1: To begin, click here, which will take you to the product page.

Step 2: After a few moments, you will see a pop-up with a 10% discount coupon.

Step 3: In the pop-up, enter a new Email address that you have never used in Appsumo.

Step 4: After submitting, take a few moments to check your mails [both Promotion and Inbox].

Step 5: You will receive an email from Appsumo with a unique PROMO CODE for a 10% discount on Texta Ai.
Step 6: Next, sign up for an Appsumo account using the same email address, and then click the "Buy Now" button on the Texta Ai product page.

Step 7: You will be sent to a page where you can enter your promotional code. Simply enter your coupon code below to receive a 10% discount right now.

So if the main price of Texta Ai is $69, after getting a 10% discount, you can buy it for $62.1 for your Lifetime.
Conclusion:
Texta Ai is one of the best content-writer tools available in the market now. They are ideal for Freelancers, Agencies, and Businesses looking to expedite the copywriting process. It is cutting-edge technology that aids in the creation of more dynamic content that resonates with the viewer. It is time-saving, straightforward, and simple to use.