[web_stories title="false" excerpt="false" author="false" date="false" archive_link="true" archive_link_label="" circle_size="150″ sharp_corners="false" image_alignment="left" number_of_columns="1″ number_of_stories="5″ order="DESC" orderby="post_title" view="circles" /]So the hand-me-down dining table you've been using since college is on its last legs – get it last legs?
And it's finally time to replace it. You've got three options. Build one yourself. Hire a professional. Or head to Ikea and grab something sleek, affordable, and ready to assemble out of the box. Obviously, option 3 is where it's at.
In the same way, you've got three options when building an app for your business.
Learn to code.
Hire a developer.
You can use Tapps.
Today, in this blog, I am looking at Tapps – the easy way to build your app so you can share digital content quickly across any device. Let's get it!
What is Tapps?
Tapps is a platform that doesn't require you to write code. It lets you easily make, share, and grow branded digital content that can be seen on any screen.
Tapps is an alternative to Linktree, Appy Pie, WithKoji, and HiHello.
Who Need Tapps?
Tapps is best for:
Small business owners
Solopreneurs
People who want to build their online business through an outstanding App for iOS or Android.
Marketers
HR Managers
Sales Representatives
Event Planners
Realtors
Direct Sellers
Insurance Agents
Consultants
Brokers
Franchises
E-Commerce Stores
Service Industries
Affiliate Marketers
Why You Need Tapps?
There is no need to learn how to write code to make and start sharing branded digital content on any device if you use Tapps.
Also, you can easily develop your apps and keep an eye on detailed performance metrics by using Tapps.
Building your own app or mobile website with Tapps is so easy, it'll make you consider a career change. How much are people paying for app development these days?
You've got a wonderful app concept, but studying how to code in terms of bringing it to life is limiting your progress. It's like I'm five years away from launching, according to the Python countdown timer.
You don't need any coding skills to create, publish, and grow branded digital content that's ready to go live in minutes if you use Tapps.
Get the word out about what you have to say.
Why Tapps is A Perfect Solution for Your Business?
Tapps offers you many features like –
Tapps provides you with an end-to-end solution on a single platform.
You will also benefit from its other features, which include lightning-fast load speeds, customized branding, and more than 20 different action kinds.
You will have the power of a website combined with the ease of an app without having to learn any code.
It is search engine friendly, and it may be used on a large scale.
Most significantly, you will have everything in one location, which will save you money on having to purchase a domain and any theme separately.
Tapps is always available, and it has a simple home screen icon that you can reach from any device.
You do not need to publish your apps on the app store in order to share them with others. You only need to share a simple link with them, which they may access from any devices they want.
Are you a fan of Tapps?
Features of Tapps
Free Custom URL
You can get a unique URL for free with Tapps, no matter if you're creating a simple agents app or a multi-page product manual.
It's up to you whether you want to use a domain from a list of available domains, or if you want to use your own.
A remarkable link that portrays your digital experience, on the other hand, will help you get more traffic.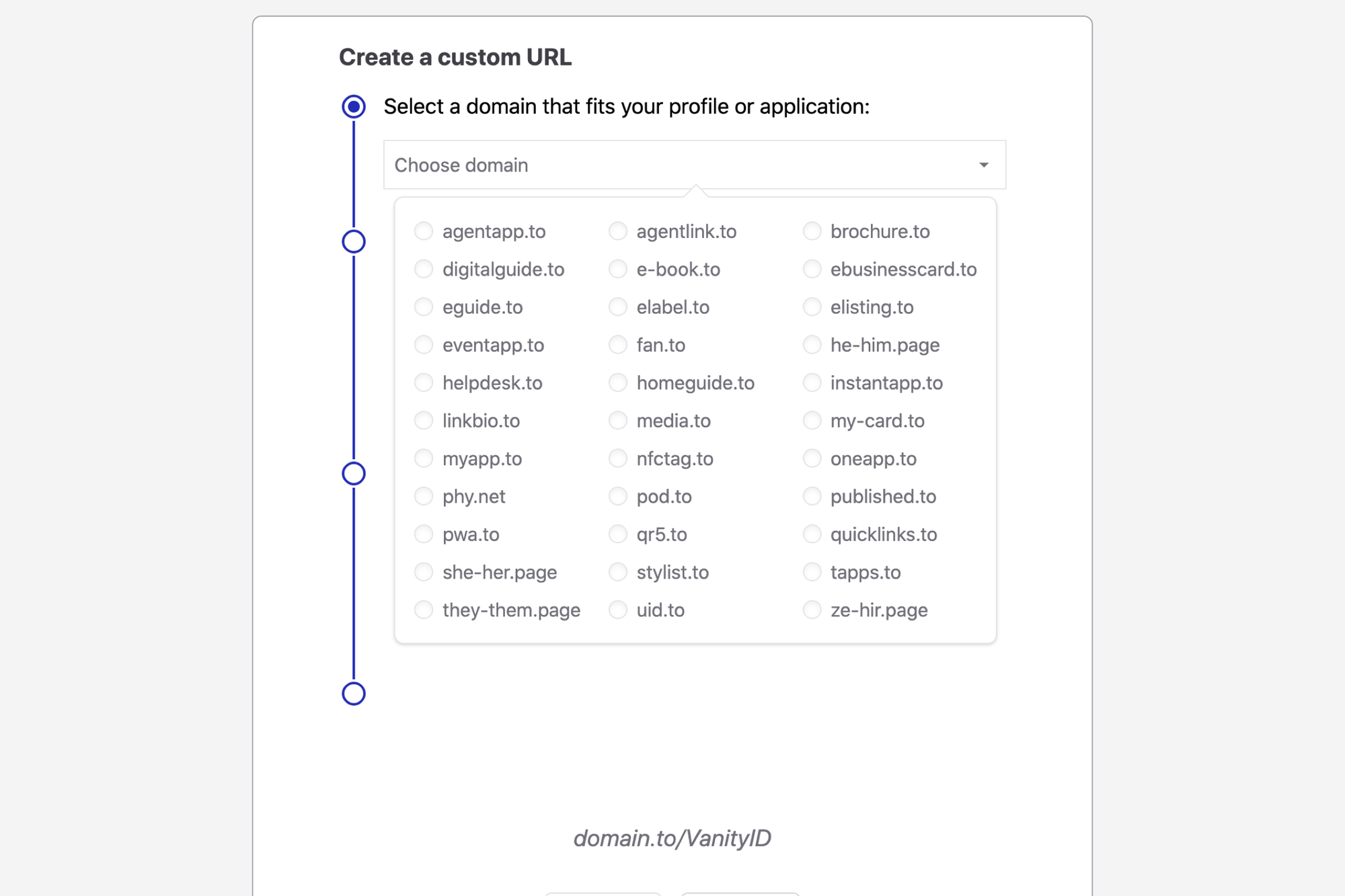 No-Code Platform
Your app will be up and running in no time, and you won't have to wait around for the IT staff to do it for you.
Using Tapps, you can create an app with a wide range of personalized, branded activities that can be used on any device.
It's possible to conditionally display many elements of your app, including links, menus, videos, and in-app messages.
Additionally, you'll be able to save and share activities between applications, making it easier to update your material.
Build-in Tracking System
For optimum visibility, you may also create SEO-friendly applications that can be found on Google, Bing, and Yahoo.
With the clicks you're driving, you'll have access to more in-depth engagement analytics without having to rely on third-party applications or cookie monitoring.
By tracking offline engagements, unique users, and where they're coming from, you'll be able to improve your campaign.
Metrics on your app as a whole, as well as interaction with particular actions, may be collected.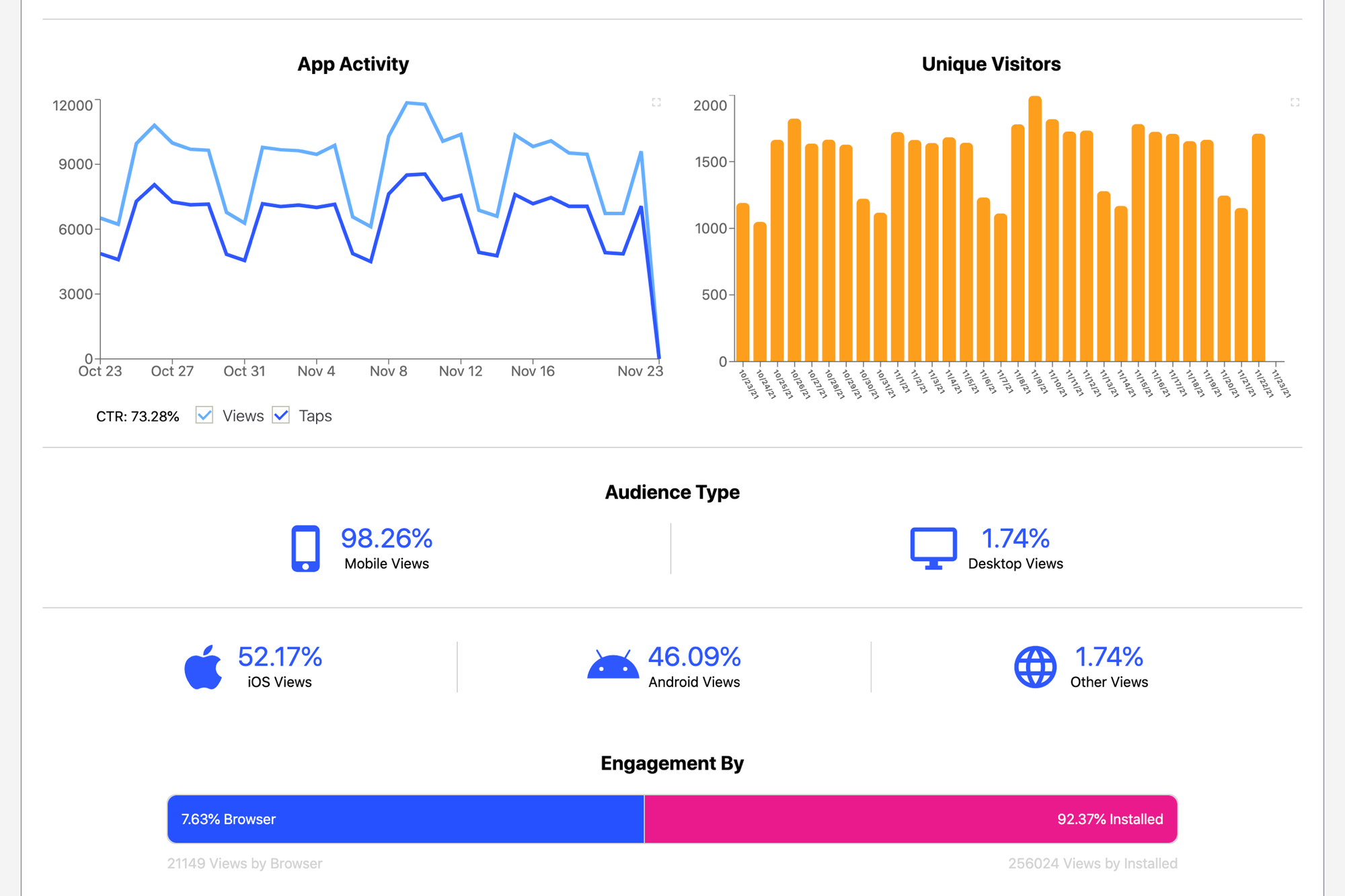 Clone several applications with content that can be easily updated and scaled up and down.
It is possible to store your apps to a home screen icon so that they may be easily accessed even when you are off from the Internet.
In addition, the sharing of content makes it simple to deploy apps on a large scale while still analyzing individual experiences.
As many copies of the app as you will need for your clients or team may be created from a single master template.
You may choose which activities are shared and which are exclusive to each app while cloning an app from a template, and you can change actions across many applications automatically.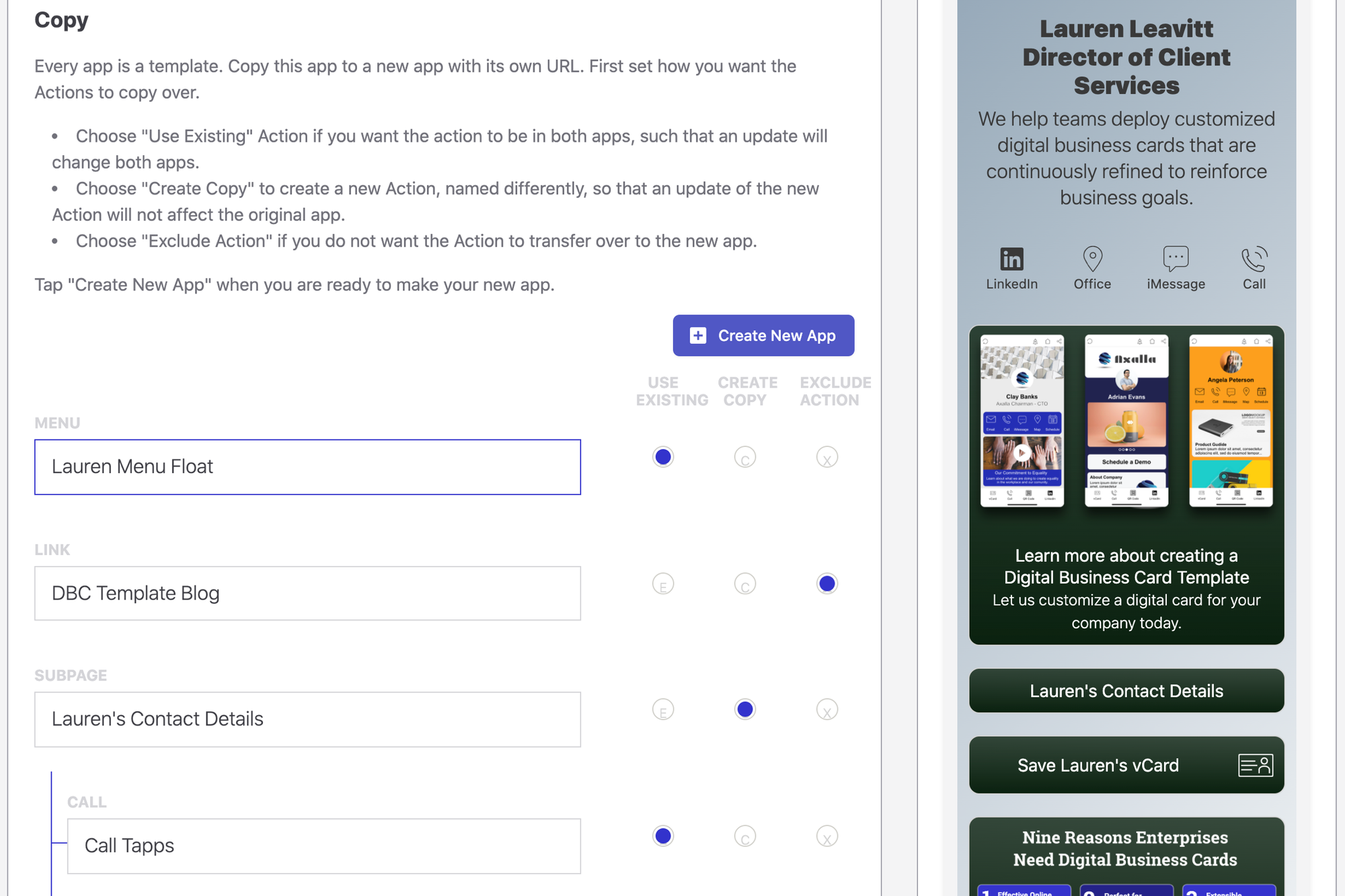 Easy to Share
With no requirement for the app store, users can access your software directly from their smartphone.
Share in many ways: Your personalized link, QR code, and social sharing will do the trick.
Rich previews: Your app looks great when shared. It's all plain text.
Use Cases of Tapps
The Tapps app makes it easy to post, style, and distribute your digital content from any device. It's a relief that these applications don't need any coding at all.
Let's have a look at some of the applications for Tapps, shall we?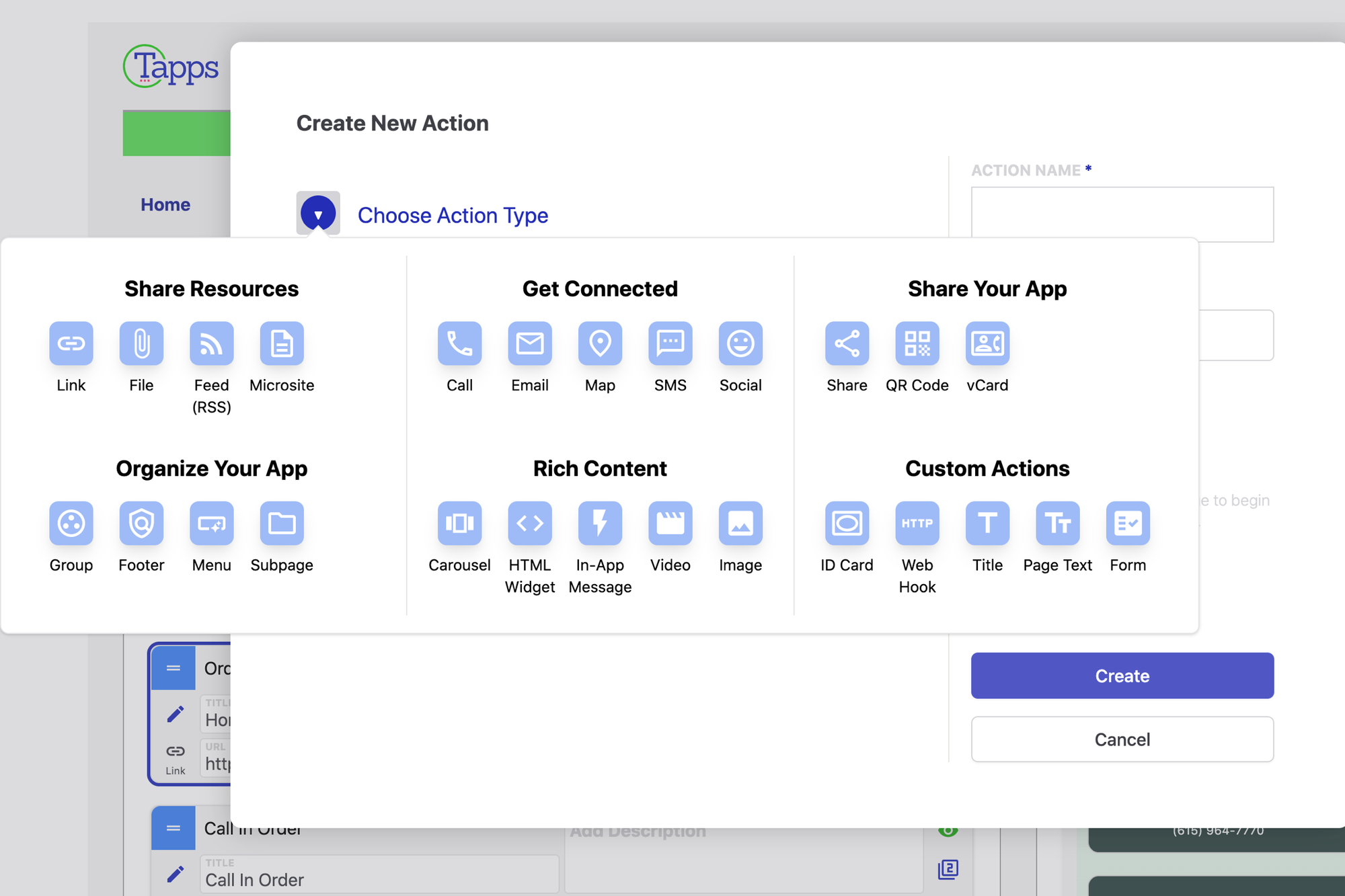 Marketing
Using Tapps, you can quickly and easily produce and distribute high-converting content to your followers, customers, and audience members.
The correct material may be shared at the right moment without having to wait for IT or coding criteria to be met.
Upload, style, and distribute digital material fast and easily with your prospective audience with Tapps!
Marketing materials that you are getting with Tapps:
Infinite links & contacts
Images for action
Embeds for social and video
QR code share
The home screen saves
FB Analytics & GA
Measurables
Clone & customize for items, events, or users
Sales Solution
With Tapps, you can share the URL of your universal app with your audience through high-converting content in order to enhance sales and lead generation.
For your sales force, Tapps provides everything from digital brochures to PDFs to pricing lists to training materials to video demos.
A simple link or QR code can be used to spread information throughout the internet.
Even your audience may download it as an app to their computer, tablet, or mobile phone. Your sales will soar as a result of Tapps.
Human Resource Solution for Your Company
Tapps makes it simple to engage with workers and prospects; it's highly customizable and applications are constantly up to date.
Tapps enables you to ensure that the proper information is distributed to staff and new recruits.
How to Use Tapps?
Get Tapps Lifetime Deal with a 10% discount and then start by clicking "Create New App," and choose your URL. Start from scratch or use one of the templates available to you for free with your Tapps account. You're in total control; even with templates, you can choose which styles, layers, and features make sense for your vision. Plus, you can dive into deeper customization later, so don't worry about design too much right now. Once you've got the foundation set, it's time to customize your app so you can start scaling engagement.
Tapps gives you the power of a programmer without the investment of a 12-week coding Bootcamp. Select from over 20 features, which are called actions, to bring your app to life. Actions include things like links, videos, files, tap-to-call, tap-to-email… really everything you need to build a range of different types of apps.
Anything you've ever seen in an app and been like:   "Man it'd be so cool if I had something like this for my business" is right there waiting for you.
Fast-forward 30 minutes or so. You launch your app, people start using it, and then what? Well, like with any other project you've ever launched, it's time to get into the data to see how you can improve performance. Lucky for you, Tapps has built-in metrics tracking that shows you details on App Activity, Unique Visitors, Page Views, Click Rates, Engagement across browsers, iOS, and Android. Every important metric you should be tracking is right there, so you know what's working and what's not. That way, you can continue to adjust your app for maximum winning.
If you're a small business owner, entrepreneur, or agency looking for a ready tool to deliver your content through an app, Tapps's simple app-building software is absolutely a game-changer. Get it today!
Tapps Lifetime Deal
Tapps is offering a lifetime deal now on Appsumo only at $59; by purchasing you can get lifetime access to Tapps. You can also get a 10% discount on it if you are a new user.
Features in Tapps Lifetime Deal
No-code PWA(Progressive Web App) builder
Build installable websites and multi-page apps that share over the web
Mobile-first with desktop formatting options
Unlimited style color options
Template & content library
25+ element types (link, video, menu, etc.)
Share elements between apps
Integrated form builder
Image, file, and location capture with forms
Metrics without tracking cookies or pixels
Contextual content (by schedule, device, etc.)
GraphQL API
App cloning and copying
30+ domain options for creating custom URLs
Tapps Pricing:
The licensing deal has three options:
1️⃣ Tier 1: 5 apps for $59
2️⃣ Tier 2: 20 apps for $129
3️⃣ Tier 3: 50 apps for $199.
The number of apps in each Tier is the main factor in the price. There are a lot of different things you can do with 20 or 50 apps!
Get an Extra 10% Discount on Appsumo:
Follow the guideline to get a 10% Discount on Tapps Lifetime Deal on Appsumo –
Click Here and Go to the landing page of Tapps Lifetime Deal.
Wait some time (20-30 seconds) until the discount popup appear.
After appearing the discount pop up, enter your Email[Enter a New Email]
Check the mailbox[Both Inbox and Promotion Tab].
In the mail, you will get a unique discount code for a 10% discount. Use this code on the coupon section at the time of purchase.
Make sure you are buying the deal from the same Email on which you get the discount code.
Frequently Asked Questions:
Q: What are the benefits of Tapps Lifetime Deal?
You are getting Tapps for a lifetime. So you don't have to pay for every month. You can buy one time and use it rest of your life to generate unlimited words for your blog.
Q: How to get a 10% Discount in Tapps Lifetime Deal in App Sumo?
Follow the procedures —
Step 1: To begin, click here, which will take you to the product page.
Step 2: After a few moments, you will see a pop-up with a 10% discount coupon.
Step 3: In the pop-up, enter a new Email address that you have never used in Appsumo.
Step 4: After submitting, take a few moments to check your mails [both Promotion and Inbox].
Step 5: You will receive an email from Appsumo with a unique PROMO CODE for a 10% discount on Tapps Lifetime Deal.
Step 6: Next, sign up for an Appsumo account using the same email address, and then click the "Buy Now" button on the Tapps Lifetime Deal product page.
Step 7: You will be sent to a page where you can enter your promotional code. Simply enter your coupon code below to receive a 10% discount right now.
So if the main price of Tapps Lifetime Deal is $69, after getting a 10% discount, you can buy it for $62.1 for your Lifetime.
Q: Is there a money-back guarantee in Tapps Lifetime Deal?
Yes, of course. You are getting 60 days money-back guarantee in the Tapps lifetime deal from Appsumo, no matter the reason. So buy it today and use it for the next 60 days. If you think it is not really useful, you can refund your full money within these 60 days.
Q: Is it possible to get a free trial of the Tapps Lifetime Deal?
Both yes and no. Actually, you need to purchase it before, and you may use it for 60 days. If you don't like it after 60 days, you can get a refund without giving a reason. So it's sort of like a free trial, right?
Conclusion
Tapps provides you with everything you need to advertise your business and increase sales via the use of digital content.
You will not be required to pay for additional domains or functionality, nor will you need to employ a third party to develop your web applications. Instead, you may design your own web applications without having to know any code.