We're constantly looking for a stress-free workplace. It's never been easier to create content on social media platforms like Facebook, Twitter, Instagram, Pinterest, etc.
If you want to enhance your social media platform's engagement and turn your followers into customers, you may want to consider the following. You must apply creative content to them. Then, how?
Assume that you could have access to a fantastic tool that assisted you in creating better posts on social media with creatives while also providing next-level consumer engagement?
What is Predis ai?
Predis.ai is just an AI-powered social media content generator that generates creatives, descriptions, and hashtags specialized for your business or brand, or niche.
You may use AI to create new and exciting material for your social media accounts posts.
AI/ML-based Predis allows Instagram marketers and influencers to review and optimize their posts before posting.
Using artificial intelligence, Predis provides an Interaction Indicator that reveals how well a social media posting may do and provides ideas for improving the post, leading to more engagement.
An alternative to the Jarvis.ai and Copy.ai is Predis.ai. In addition, Predis AI may use it instead of Canva.
Predis Ai is not the same as another:
Instead of creating an image/video editor like Canva, Predis AI is developing an AI. Although Predis AI includes an editor, the long-term goal is to eliminate the need for editors.
Jarvis.ai Clone: Predis AI feels there's enough long-form ai writing tools on the market, and they don't aim to produce this one.
Clone of Hootsuite/Buffer – Predis AI will also have a publishing feature eventually. Still, the focus is on generating high-quality and unique content that your audience will like.
There should be less pain on social media for small companies and influencers through engaging with creatives.
For your posts on social media, you may use Predis.ai to select the finest creative templates, which you can then customize with the appropriate photos, titles, and colors.
If you have the right tools, even amateurs can improve the quality of their work.
Let's examine what Predis.ai has to offer in terms of features.
Features of Predis AI:
Forget about coming up with content ideas with Perdis.ai. Instead, artificial intelligence will develop engaging content ideas for your social network sites.
Check out Perdis's capabilities, shall we?
Social Media Content Idea Generator
Perdis.ai is a tool that allows you to produce fresh, original social media content or blog ideas in seconds based on your relevant subject.
It is sufficient for you to supply a single key line about your company, and Perdis.ai will instantly provide post ideas, creatives with complete caption ideas using gpt-3 and open ai, and hashtags relevant to your profile.
To make your next-level post more customized, AI will choose the best templates, fill in the text and photos, and apply your branding fonts and colors to the content to make them more personalized.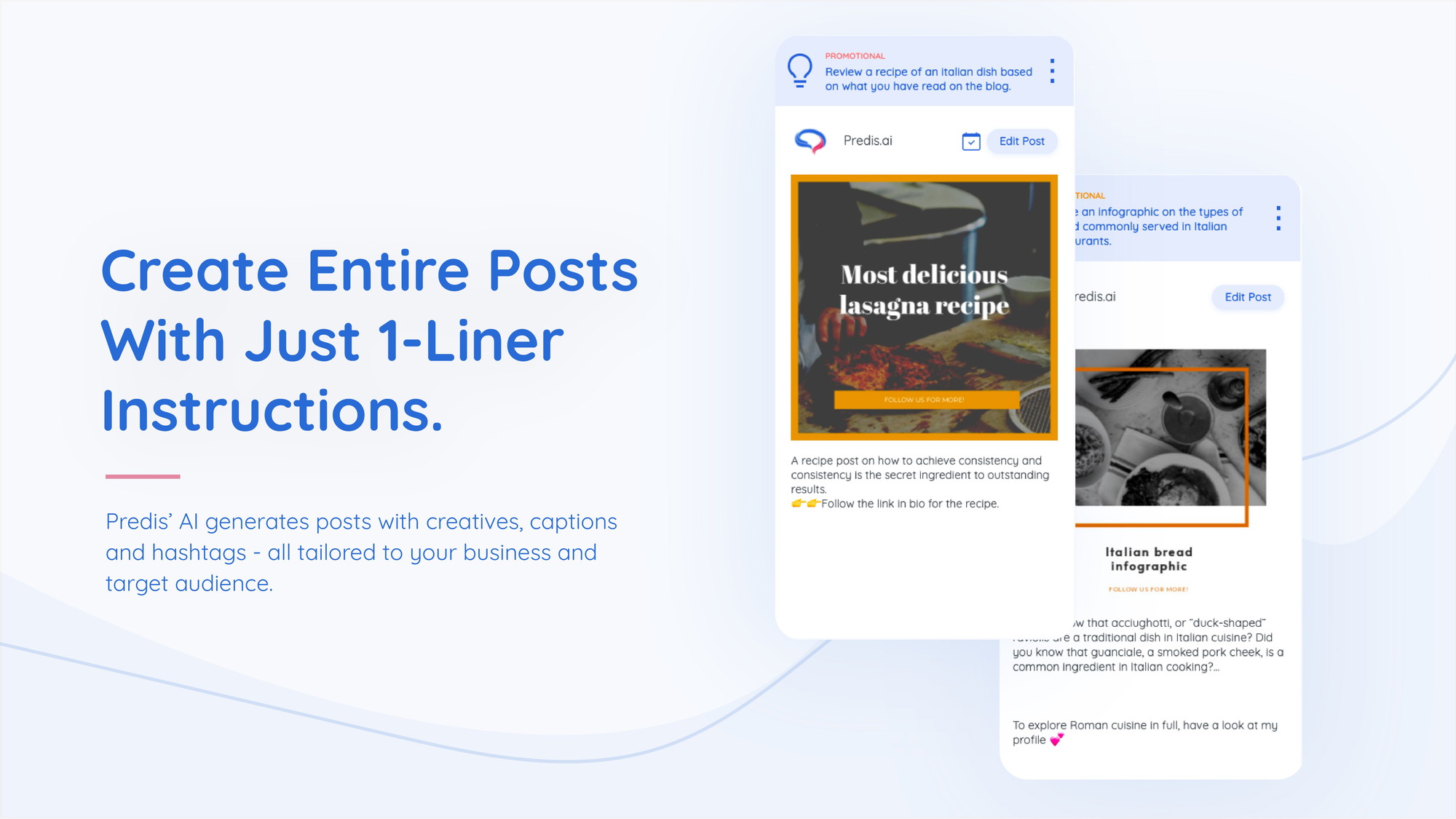 Multiple Workspace
You can create multiple workspaces on Predis Ai if you have various brands. You will set up your branding elements for your brands, and Predis will generate your high-quality content according to your work space's branding.
Predictions for the Post Engagement
Using Perdis.ai, you can optimize your social media posts to get better engagement from your followers, which will ultimately help you convert your followers into consumers by its engagement indicator.
Perdis's artificial intelligence system is always focused on each component of your postings, including the text, hashtags, mentions, photographs, and time of publishing, among other things.
All of your articles will benefit from it since this will help you reach your full ability in any situation.
Recommendations for Content Ideas
Perdis AI-powered caption generator helps you to create the ideal and complete captions for your social media postings.
You would not be able to attain the desired level of engagement unless you used appropriate captions. On the other hand, Perdis produces relevant subtitles for your postings that are both long and acceptable in tone.
Recommendation for Hashtag
Perdis.ai assists you in determining the most suitable hashtag for your posts on Instagram Posts and Twitter Tweets in order to reach your target audience.
Their algorithms actively search for hashtags on social media sites in real-time, and they will give you one of the most popular and trending hashtags connected to your post based on their findings.
Unique and Creative Suggestion
Using Perdis.ai, you will be suggested acceptable images for your selected post idea, and these images will be sourced from Unsplash and Pexels.
Branding
You can set up your brand colors, fonts, and logo in the Predis ai platform. Predis ai will generate content and creatives according to your branding elements automatically. So you don't have to get hassle every time about your brand colors, fonts, and logo whenever you are making new content for your social media.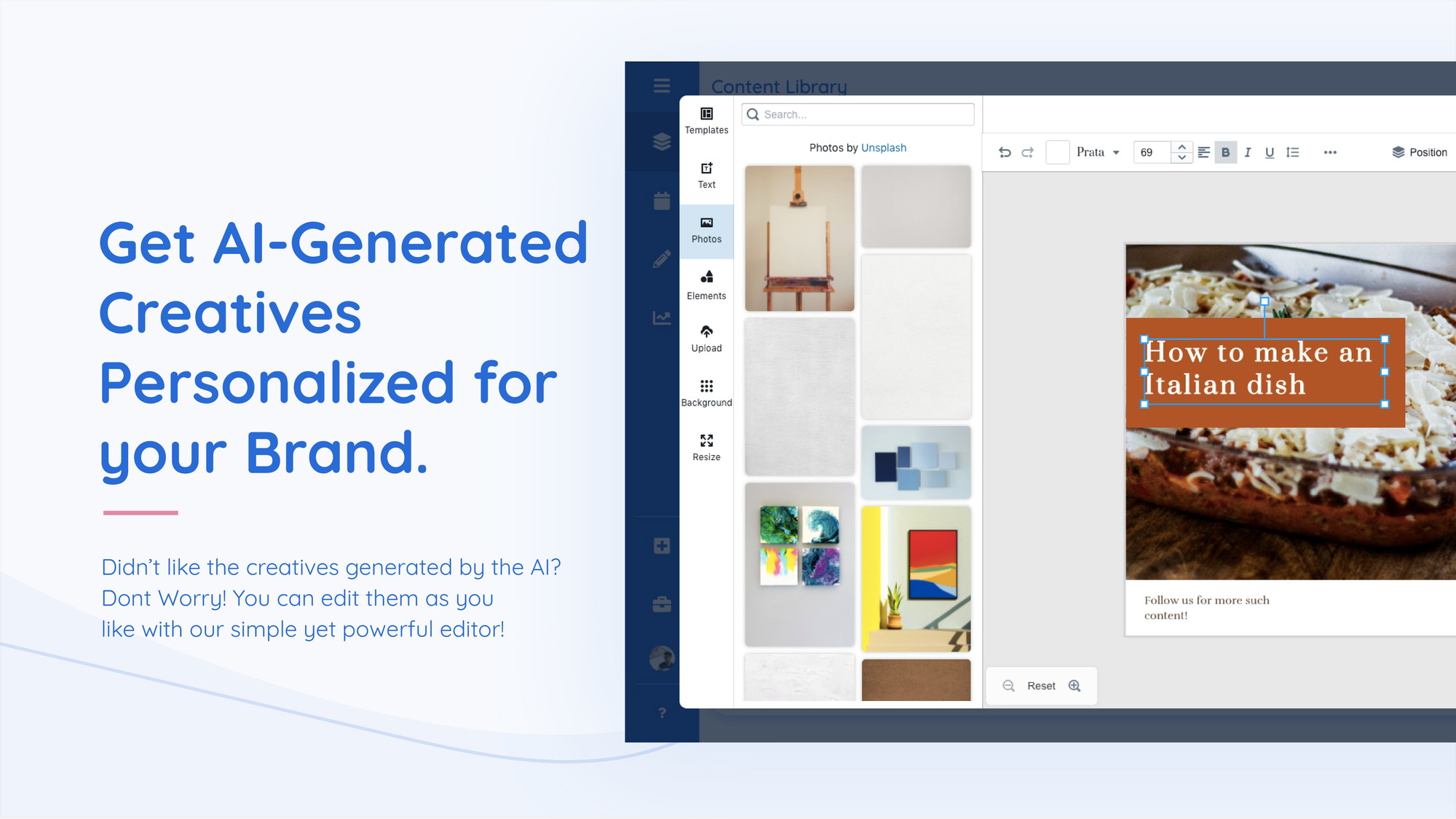 Competitor Analysis
Last but not least, you will be able to interpret the competition's content strategy.
Perdis.ai gives you insight into the best and worst-performing content produced by your competition.
Its algorithms can identify the motivations behind the messages and automatically put similar subjects together into a single category.
You may find more information regarding Perdis.ai's features here.
Who Need Predis AI:
Copywriter
Social Media Agencies
Content Creators
Bloggers
Influencers
Small Businesses who want to make a presence in social media
Predis AI Alternatives:
FeedHive and Ocoya are now the only two available alternatives to Predis.ai.
We cannot publish our post using Predis.ai directly on our social media since it has many integrations and the design stages are highly restricted. With Ocoya, we can design our social media post completely, although there are some difficulties with the flow and FeedHive. But soon, Predis Ai will also integrate this post publishing feature into their platform.
Advantages and disadvantages of utilizing Predis.ai
As a result of my experience with Predis.ai and other AI technologies, I'd like to share my benefits and disadvantages with you.
Pros include the ability to generate material automatically, the ability to analyze your competition, and the ability to customize your posts in great detail, while drawbacks include the lack of additional social network connectors. I'd want to see more templates, and I'd like to know more about the hashtags I'm using.
Personal Experience with Predis AI:
Predis.ai has been an excellent and great tool for me.
If you're short on creativity, you may use Predis.ai to get ideas for what to post on your social media profiles. Predis.ai receives four out of five stars from me. Creating material is easy, but I'd like to see more automation, RSS feeds, and social network connectors available. But they are improving every day. I hope they will bring more features to the Predis AI platform shortly.
If you don't miss these fantastic features, get the lifetime deal from here and enjoy Predis Ai for your lifetime without paying for every month.
Predis AI Pricing:
But Wait, Predia AI is offering a lifetime deal on Appsumo right now.
Predis Ai Lifetime Deal
You can get the Predis ai lifetime deal from App Sumo for less than $69 for your lifetime.
If you want to get a 10% discount on this lifetime deal, click here and Get the Lifetime Deal of Predis Ai[Must Use a New Email to get the Discount].
Frequently Asked Questions:
Q: Is there any other way to get free content from Predis AI besides buying their product?
Actually, you have to buy. Because to generate ai content, companies need to pay for GPT 3 or Open ai. So without paying, companies cannot survive. So if any website offers you free ai content, my suggestion is not to go for it. Use a premium ai copywriter to generate high-quality unique content.
Q: What are the benefits of Predis AI Lifetime Deal?
You are getting Predis AI for a lifetime. So you don't have to pay for every month. You can buy one time and use it rest of your life to generate unlimited words for your blog.
Q: How to get a 10% Discount in Predis AI Lifetime Deal in App Sumo?
Follow the procedures —
Step 1: To begin, click here, which will take you to the product page.
Step 2: After a few moments, you will see a pop-up with a 10% discount coupon.
Step 3: In the pop-up, enter a new Email address that you have never used in Appsumo.
Step 4: After submitting, take a few moments to check your mails [both Promotion and Inbox].
Step 5: You will receive an email from Appsumo with a unique PROMO CODE for a 10% discount on Predis AI Lifetime Deal.
Step 6: Next, sign up for an Appsumo account using the same email address, and then click the "Buy Now" button on the Predis AI Lifetime Deal product page.
Step 7: You will be sent to a page where you can enter your promotional code. Simply enter your coupon code below to receive a 10% discount right now.
So if the main price of Predis AI Lifetime Deal is $69, after getting a 10% discount, you can buy it for $62.1 for your Lifetime.
Q: Is there a money-back guarantee in Predis AI Lifetime Deal?
Yes, of course. You are getting 60 days money-back guarantee in the Predis AI lifetime deal from Appsumo, no matter the reason. So buy it today and use it for the next 60 days. If you think it is not really useful, you can refund your full money within these 60 days.
Q: Is it possible to get a free trial of the Predis AI Lifetime Deal?
Both yes and no. Actually, you need to purchase it before, and you may use it for 60 days. If you don't like it after 60 days, you can get a refund without giving a reason. So it's sort of like a free trial, right?