Live-streaming is an awesome way to connect with your audience, attract new followers, and so much more — but it can be challenging for a content creator if you don't have the right tools. That's why you'll want to hear all about Melon!
I'm super excited to tell you about Melon, the amazing tool that helps you create professional live streams to share on social media.
What is Melon?
Melon is a web-based livestreaming tool that allows high-quality broadcasts to be broadcast over several channels like your YouTube Channel, Facebook Page, Facebook Profile, Facebook Group, Twitter, Twitch, Linkedin, and other platforms at the same time.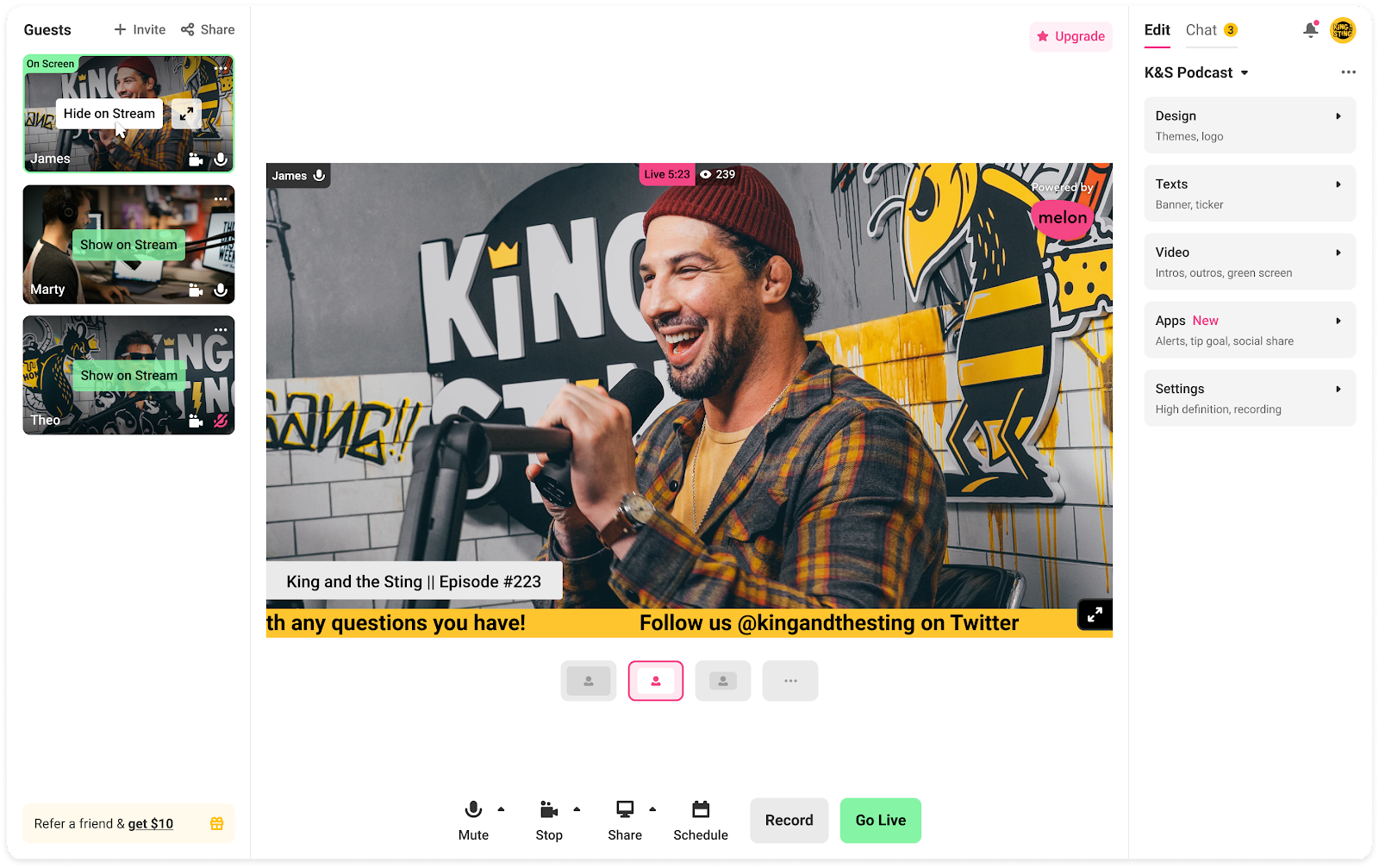 How to Use Melon?
Melon is super simple and fully browser-based, so you don't have to download any software. I'll show you how easy it is to get started. When you're ready to go live, all you have to do is click "go live" in the bottom toolbar. Then, select your platform, enter your details and you're living in just a few clicks! When you're done, just click "end stream."
What is the Best Part of Melon for Live Streaming?
The best part? In my opinion, the best part is, you're not limited to just one platform if you use Melon! You can multistream to grow your audience on YouTube, Twitch, Linkedin, Twitter, and more, all at the same time. So Melon offers you to stream a bunch of different platform options for streaming at a time.
Another best part is, you can live stream solo, or invite a guest. Just click "Invite Guests" and Melon will generate a login link. When guests visit the link, they'll simply add in their name and set up their audio before entering the live stream and that's it! No need to set up an account or install anything. Once they're in, all guests show up in the sidebar, where you can control their audio and video. You can also adjust the layout of your videos to feature all your guests or only the main speaker.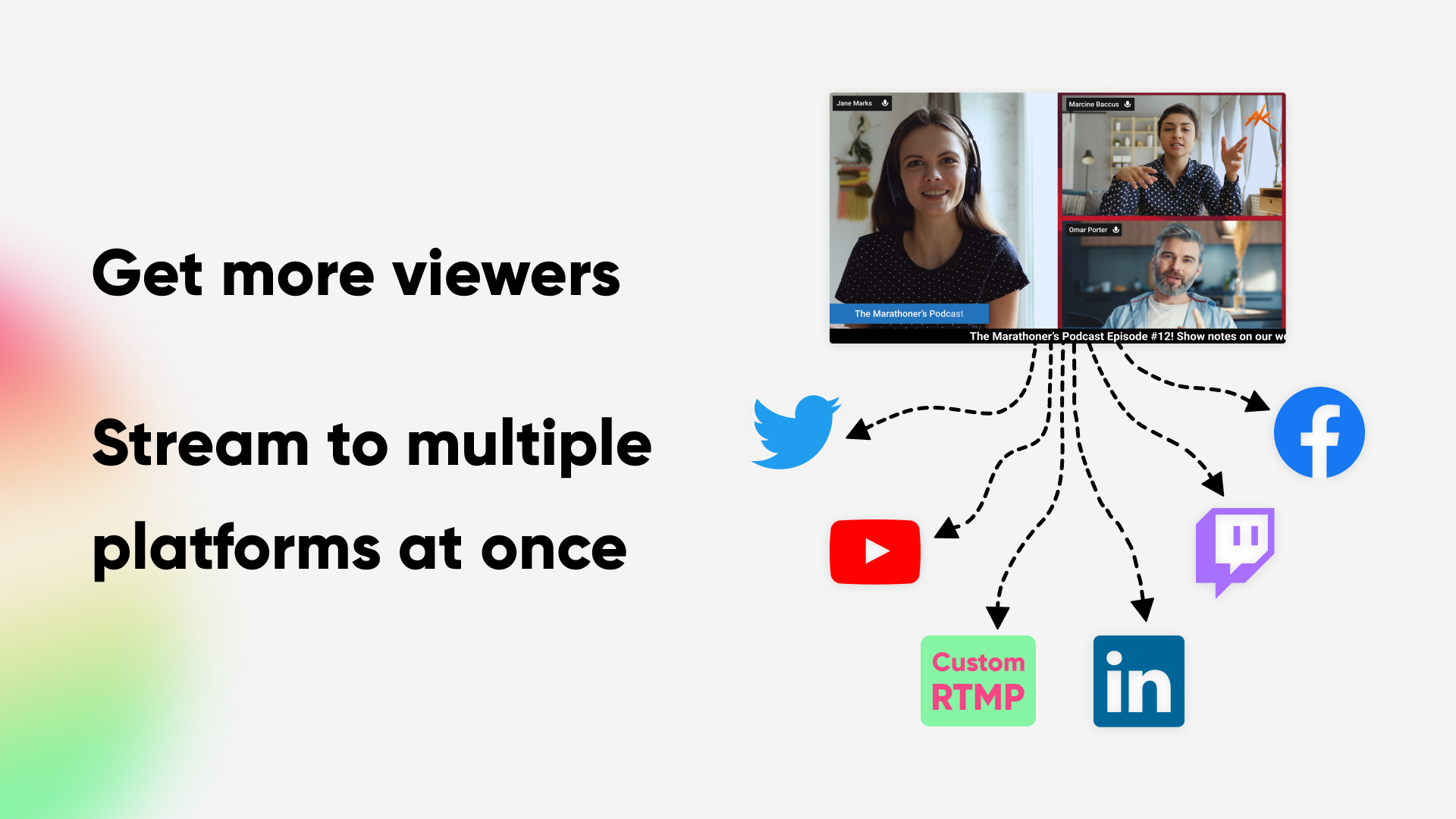 Who needs Melon?
The melon app is best for Content creators such as YouTubers, Podcast creators, and social media marketers looking to grow their online presence and earn money through high-quality streams.
Important Features of Melon:
Now, let's take a look at all the great tools Melon has for your live stream.
You can find the tools in the toolbar at the bottom of the screen.
5 Click Live Features:
Melon allows you to go live in only five clicks without the need to install any applications on your devices.
Even your guests do not need to create an account to participate in your Livestream.
Simply provide links, and anyone can join by clicking on them. SIMPLE, RIGHT?
Multi-Platform Streaming Together
Using Melon, you can stream on many platforms at the same time, including Facebook(Profile, Page, Group), YouTube, Twitch, and LinkedIn. You can also use custom RTMP.
You can easily engage your community while expanding your reach to your audience or consumers.
You may also record and use recordings to enhance your audience. You may also download recordings and use them in any way you choose.
Melon, by the way, is a cloud-based technology that guarantees lightning-fast servers as well as stable and secure streams.
Guest Invite Feature
Do you want to bring in a special guest to keep your content interesting? Melon's web-based studio may accommodate up to nine participants.
Best of all, your visitors do not need to create an account or download any software to join your broadcast: Melon allows them to join with a single click!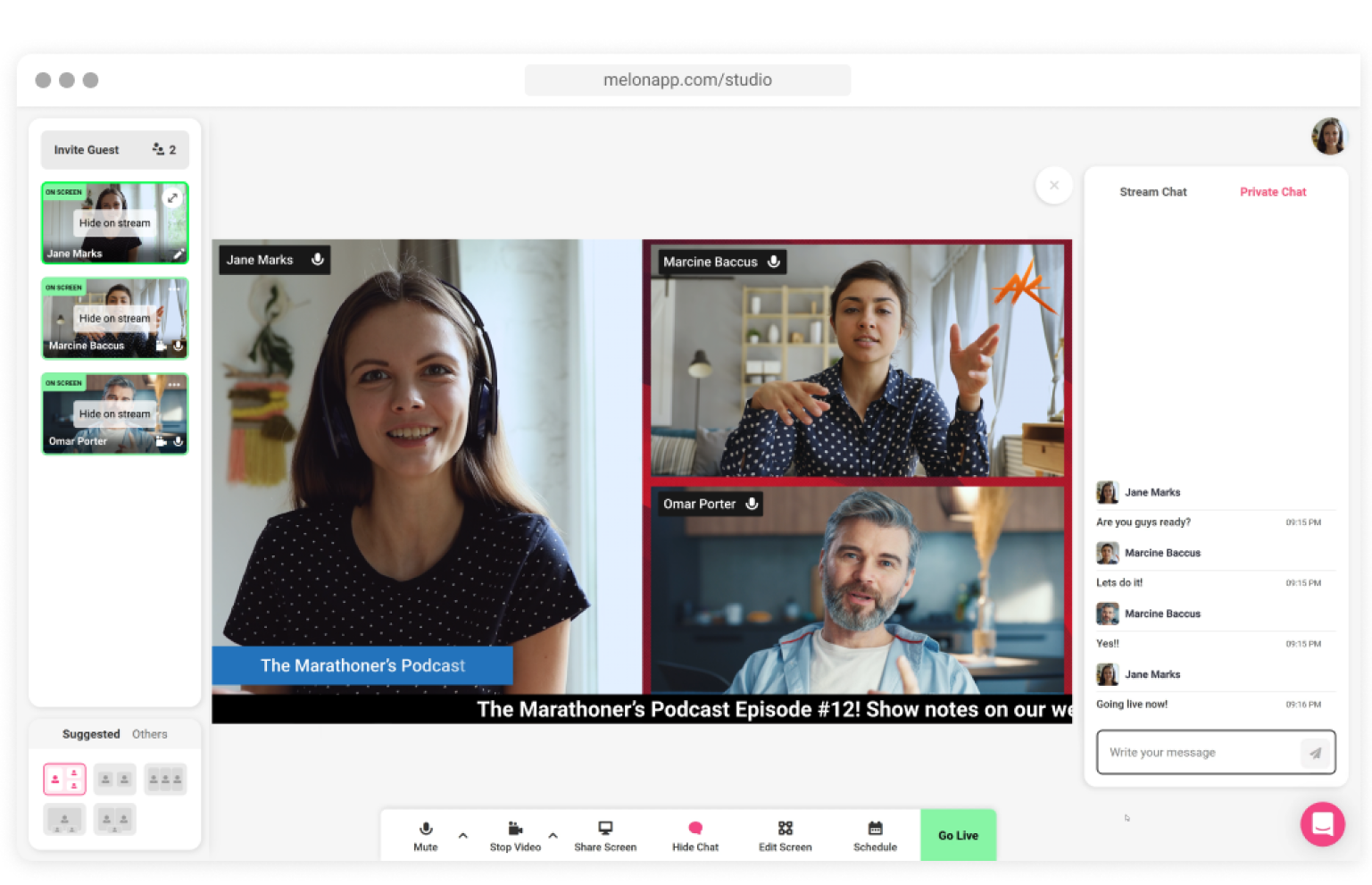 Audio Video Control Options with Noise Reduction
Use the audio and video options to get the best quality sound and visuals. You and your visitors will always sound excellent because of the stereo and mono sound with high bitrate and noise reduction features of the Melon App.
Furthermore, Melon hosts everything in the cloud internationally, ensuring dependable and consistent service no matter where you and your visitors are.
Melon provides advanced capabilities at your fingertips, giving you complete control over your content with no trouble.
Sharing Options
You can share your video, your whole screen, or specific tabs with or without audio. It's super easy to switch between sharing your screen and sharing your video or sharing them at the same time! Melon makes it super easy to interact with your followers in real-time!
Melon Chat Features
You have two options- the stream chat and the private chat. If you're streaming to more than one platform, you'll see the different chats separated out in your sidebar. Suppose you are streaming in your YouTube channel and your Facebook page. You can see individually all platforms chat.
Chat Highlighter
You can also highlight individual comments on a screen to prompt discussion, or just make viewers feel special.
Chat Moderation
Chats can be moderated, too! Keep those trolls under the bridge where they belong!
Scheduling Livestreaming
You can also utilize Melon to produce a pre-recorded video for your podcast or YouTube channel if you're camera shy when it comes to going live. That means, Next up is scheduling a stream! Just click the schedule button in the top left and you'll see all your connected platforms. For this example, I'm going to pick YouTube. I can either do a live stream or choose a prerecorded video to stream. I'll pick a live stream, then set my details, and hit save. Now my private link for any guests and the public link for fans and followers will be generated and ready to use. All the scheduled streams will show up in your sidebar, too.
Why scheduling is important in the case of Livestreaming?
Inform your viewers that you will be streaming.
Set a reminder for others to know when you'll be online.
Create a high-quality content schedule and stick to it.
Increase turnout.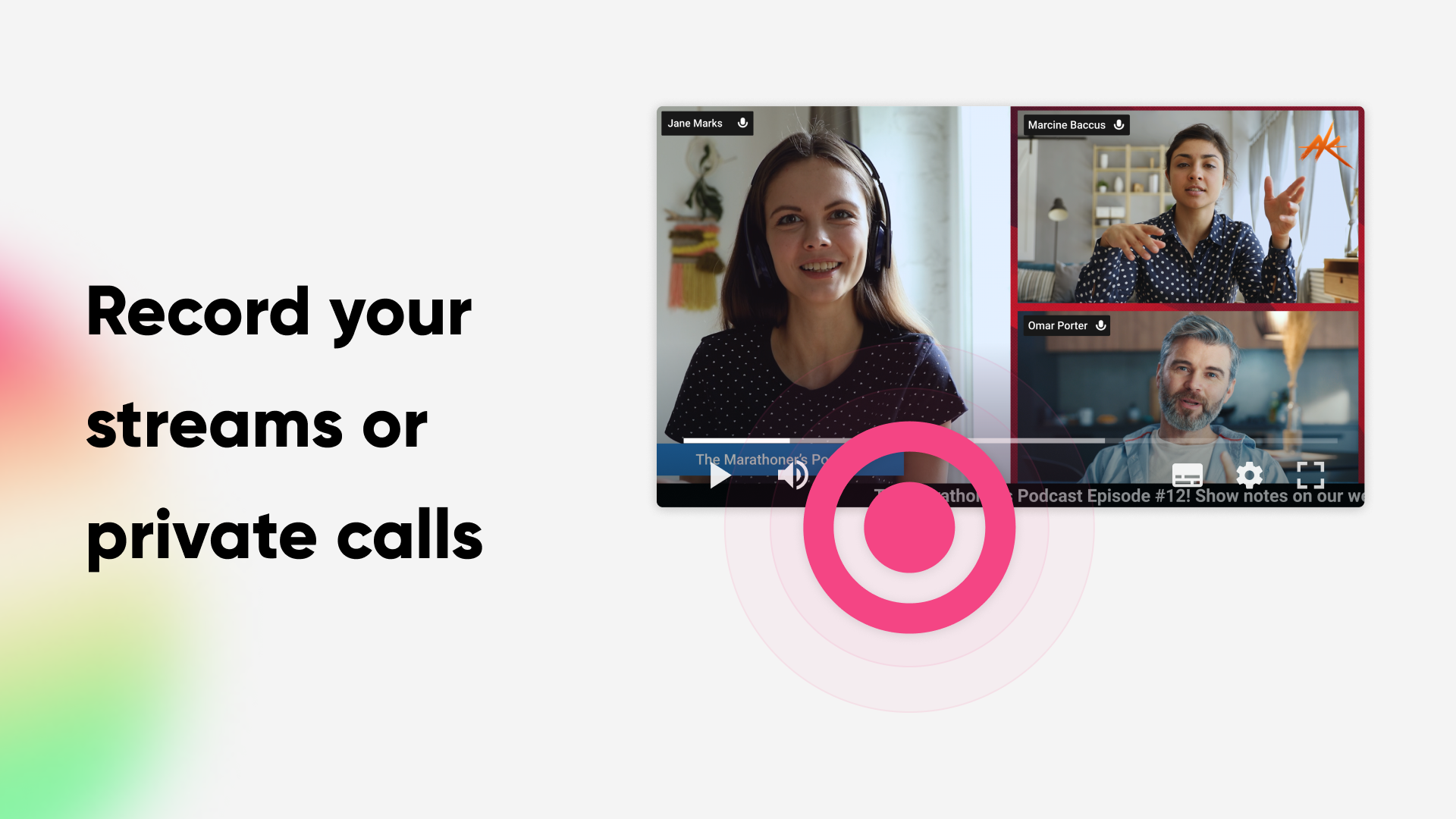 Monetize Your Livestream and Grow your Bank Account
Melon's got features to grow your following AND your bank account. Just set a stream to automatically send real-time notifications to your Twitter followers when you go live, then make bank! Viewers can donate to you in real-time. Melon also makes it crazy easy to celebrate those supporters with real-time on-screen alerts. Unlike other services, you get to keep One Hundred Percent of your donation money. Ka-ching!
Share Screen/Specific Browser and Recordings
You can share your screen in Melon Livestreamer to show your audience what's on your screen and any presentations. You have the option of sharing your full screen, a single item, or a tab. You may also share media assets pre-loaded on Melon or your smartphone.
Surprisingly, you may utilize multiple overlays to appear professional when sharing your screen and files.
Melon apps allow you to record your show and share it over several channels.
Video Themes and Branding
Finally, Melon offers customizable design options from video themes to upload your own custom logos. You can also tailor the banner and the ticker. Create a few different versions to click through while you're streaming live! Use Melon's intro and outro videos to start and end your stream or upload your own for a seamless viewing experience. Phew!
Video Overlays
Melon offers you professional overlays for your video live stream. Using these overlays, your streaming can be more professional and interesting to your viewers.
Green Screen Option
Melon offers you amazing Green Screen Features. You can remove your background and place professional and beautiful custom backgrounds behind you by using this green screen feature. So if you are the person who is worried about his background, Melon Lifetime Deal is for you! You do not need to use other tools to remove your background. Melon can do the rest of the things for you.
That was a lot, but there's so much more. Melon gives you everything you need to create a professional Livestream and promote your business! Don't wait — get access today!
Melon Regular Pricing:
But Melon is running a Lifetime Deal offer on Appsumo for a limited period of time.
You can get a Melon lifetime deal at $99 only.
Plans and Features in Lifetime Deal
Lifetime access to Melon
All future Pro Plan updates
You must activate your license within 60 days of purchase
This deal cannot be enhanced or reduced between license tiers
Only for new Melon users who do not have existing accounts
60-day money-back guarantee, no matter the reason
9 participants
Unlimited streaming hours per month
Unlimited multi-stream destinations
Up to 10 hours recording time
30 days recording storage
300 MB limit upload media files
Full HD (1080p)
Accept donations on stream and highlight viewer comments on screen
Upload pre-recorded streams
Real-time alerts from supporters
Resize and move banner and logo
Moderate and keep your Livestream chat safe with a chatbot
Notify Twitter followers when you go live automatically
Intro and outro videos
Green screen for hosts and guests
Stream recordings and audio-only recordings
Custom RTMP
Disconnect protection
Frequently Asked Question
What is the best Live Streaming Tool?
After using a lot of streaming tools, for me, the best tools for live streaming are:
What are the Best Alternatives to the Melon App?
Melon is a product of Streamlabs. So the best alternative to Melon in my opinion is Flutin Live.
Is there a money-back guarantee in Melon Lifetime Deal?
Yes, of course. You are getting 60 days money-back guarantee in the Melon lifetime deal from Appsumo, no matter the reason. So buy it today and use it for the next 60 days. If you think it is not really useful, you can refund your full money within these 60 days.
Is it possible to get a free trial of the Melon Lifetime Deal?
Both yes and no. Actually, you need to purchase it before, and you may use it for 60 days. If you don't like it after 60 days, you can get a refund without giving a reason. So it's sort of like a free trial, right?
How can I get 10% discount coupons to buy Melon Lifetime Deal?
Follow the procedures —
Step 1: To begin, click here, which will take you to the product page.
Step 2: After a few moments, you will see a pop-up with a 10% discount coupon.
Step 3: In the pop-up, enter a new Email address that you have never used in Appsumo.
Step 4: After submitting, take a few moments to check your mails [both Promotion and Inbox].
Step 5: You will receive an email from Appsumo with a unique PROMO CODE for a 10% discount on Melon Lifetime Deal.
Step 6: Next, sign up for an Appsumo account using the same email address, and then click the "Buy Now" button on the Melon Lifetime Deal product page.
Step 7: You will be sent to a page where you can enter your promotional code. Simply enter your coupon code below to receive a 10% discount right now.
So if the main price of Melon Lifetime Deal is $99, after getting a 10% discount, you can buy it for $89.1 for your Lifetime.
Conclusion:
Melon is a web-based live streaming tool that allows you to create high-quality streams across multiple platforms. Melon is a great tool for live streaming and it's the perfect solution for all those who want to stream their videos online. With Melon, you can connect thousands of people on multiple platforms at a time. So don't miss this lifetime deal. Grab Now.
Most of the Lifetime Deals of Appsumo stay only a few weeks. So don't miss Melon Lifetime Deal. Grab now.