AaDya Security Lifetime Deal Review-Unlock a Fully Automated Cybersecurity Solution
One login. One download. One link in an email. That's all it takes for an employee to compromise your entire database. And can you imagine the cost when your business falls victim to a cyber attack? Lost data. Sensitive info compromised. Clients leave for your competitors because they don't trust you anymore. All because one team member made one little mistake one time. Please don't risk it. Protect yourself with AaDya Security.
The ability to defend against cyberattacks is just as critical for your company as it is for a Fortune 500 monster. Still, sophisticated enterprise-grade technologies aren't necessarily suitable for your specific requirements.
If you could have 24/7 AI-powered security to control everything from passwords to endpoint security—in a system that is expressly built for small and midsize businesses—would you take advantage of the opportunity?
Dhrubo here from Passivern, the number 1 name in the game for the best deals on software. Today I'm pumped to tell you all about AaDya Security Lifetime Deal, the cybersecurity platform that gives your entire team 24/7 protection from spyware, malware, and ransomware.
But before we dive in, make sure to subscribe to the Passivern's VIP List. Trust me; you don't want to miss out! Let's get started!
What is AaDya Security?
Judy, the cybersecurity platform that underpins the AaDya Security solution, protects smaller businesses by utilizing next-generation solutions such as password management and 24/7 endpoint security to keep their networks safe.
Protection against cyberattacks is provided by AaDya Security, which provides a system that encrypts login details, combats phishing, and prevents the spread of malware. It allows you to monitor, evaluate, and remediate risks with professional help, as well as access reporting templates for common compliance frameworks, among other features.
AaDya Security is an alternative to CrowdStrike, Symantec, and 1Password.
Who Need AaDya Security?
AaDya Security is best suited for: Small and mid-sized enterprises needing inexpensive, adequate cybersecurity protection for their brand and consumers.
You can use it for your security also.
Why Must You Use AaDya Security?
Remember the first time you watched Iron Man and thought how cool it would be to have a "Jarvis?" Now, you get your very own cybersecurity, Jarvis. Her name's Judy, and she's the heart and brains of AaDya Security. Judy works across all your devices, in a self-contained app, and your browser. Let's start by looking at the app – your Password Vault. Here, Judy manages all of your passwords by saving login credentials across all the websites your team uses. These will be helpful later for the single sign-on feature, but more on that in uno momento because I want to show you something first.
According to Google, I was doing some research, and I found password stats that will make you cringe all of this, so it's a source we can trust. Ready?
59% of people use their birthday, their name, and even more use a generic combination like "123456" as their password.
43% of people share their passwords with others.
52% of people use the same password across multiple accounts.
Thankfully, Judy's got you covered with her Password Generator, where your team can generate unique passwords up to 64 characters long that will make your squad unhackable – and she can rotate passwords and audit them to make sure your organization stays secure.
Plus, if you're moving from another password management system, Judy makes migration as easy as uploading a spreadsheet, selecting your previous provider, and importing your data.
Now, let's get back to the single sign-on I mentioned earlier. Once your team installs Judy, they'll have access to an extension in their web browser that communicates all of their logins from the app to the websites they're using. That means they don't have to write their passwords down anywhere, and you reduce the risk of your organization being compromised. As a bonus, Judy also provides 24/7 endpoint protection to stop your team from falling into the traps that cybercriminals layout online.
Protect your team. Protect your business. Protect sensitive info. What's not to love? Go ahead and grab AaDya Security today!
AaDya Security Features:
💪 Judy takes advantage of a comprehensive set of features, with next-generation security and prominent business tools, to provide whatever you need to safeguard your brand, your consumers, and your bottom line, allowing you to expend your time and energy to what is most important to you.
Single Sign-On(SSO)
Judy generates and saves login information, allowing you to bypass the login page and quickly access the programs you use daily, saving you time and effort. Additionally, Judy's single sign-on function will enable you to save time by skipping the login box for sites you regularly visit while maintaining the confidence that your password is safe.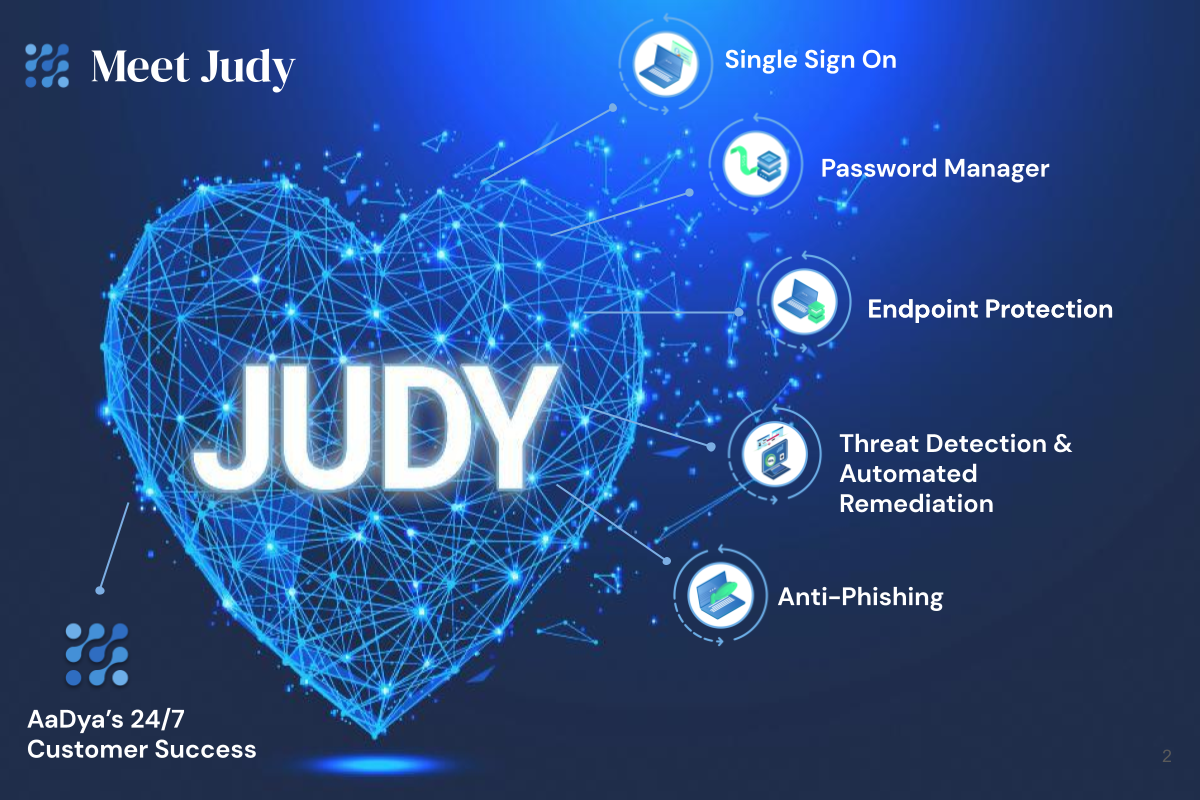 Secure Password Management
Judy utilizes a safe and private vault to generate, store, and protect all of your passwords, ensuring that unauthorized individuals do not have access to your login information. Using Judy's password manager, you may generate and save login information, as well as access it from any device.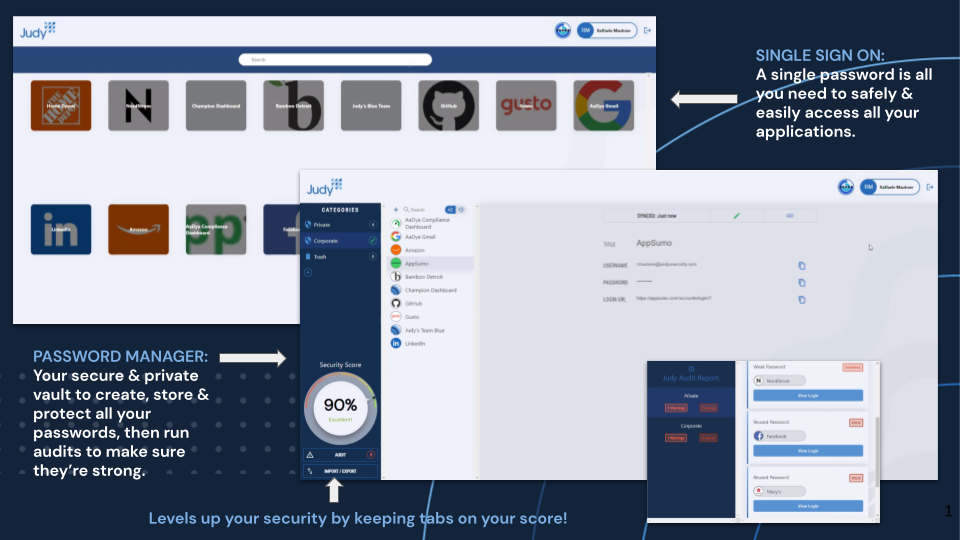 End Point Detection & Response
In addition, Judy's Endpoint Detection and Response (EDR) solution combines sophisticated anti-virus with next-generation threat intelligence to defend your devices while also preventing malware and ransomware from entering your system.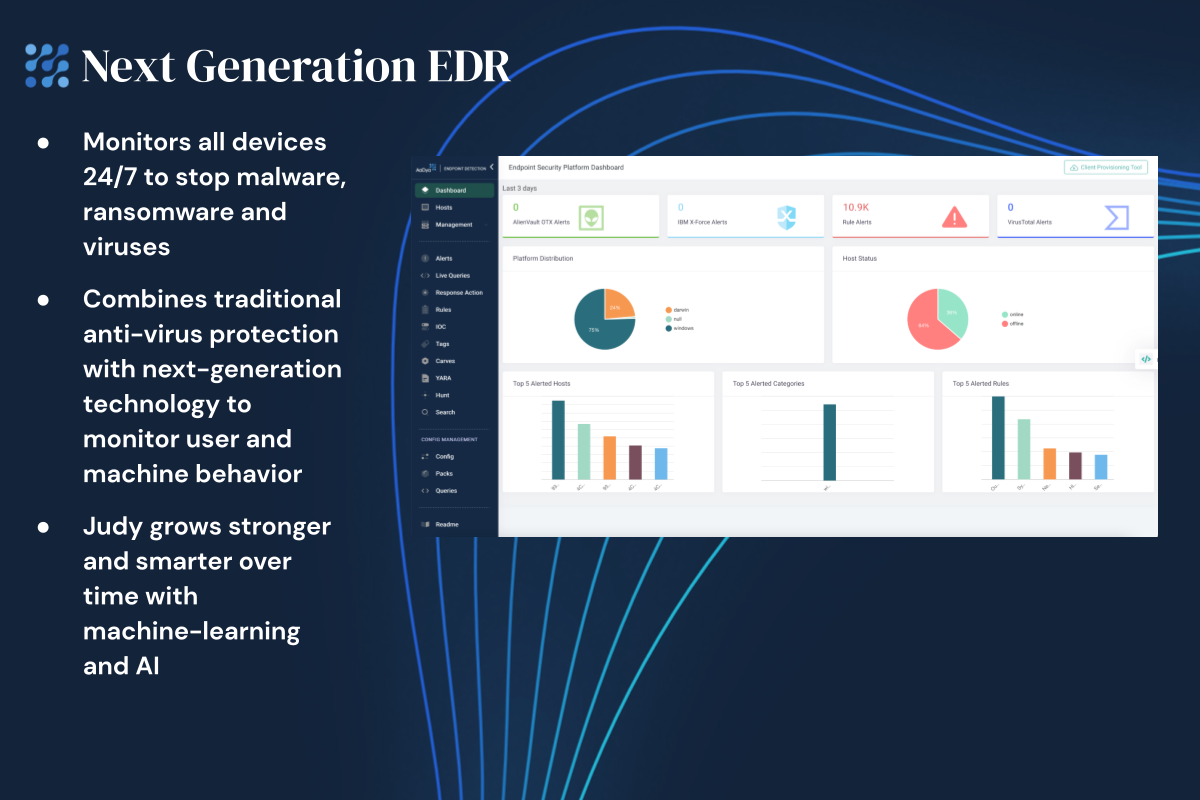 Anti Fishing Technology
Judy makes use of DNS filtering to avoid dangerous websites and material at the source, making browsing both safer and faster for her users. At the DNS layer, robust anti-phishing features scan and identify possible phishing techniques in all URLs, ensuring that you are safe no matter which browser or application you're using.
Threat Detection & Automated Remediation with Judy's Blue Team
Threat detection and automated remediation system are used to detect and remediate threats. Meet the members of Judy's Team Blue. Protect your environment with Team Blue, which offers threat surveillance and remediation, automatic reaction times, extra threat intelligence, as well as a live team of specialists on call.
Judy's "Team Blue" monitoring program, available 24 hours a day, seven days a week, monitors both threats and vulnerabilities.
A threat is discovered, and Team Blue cybersecurity professionals investigate the situation. You may engage with the experts in real-time to ensure that the problem is fixed as quickly as possible.
Additionally, Judy's Team Blue capability enables you to produce customized compliance and board control reports that include your company brand and can be shared with prospective customers, partners, and investors, among others.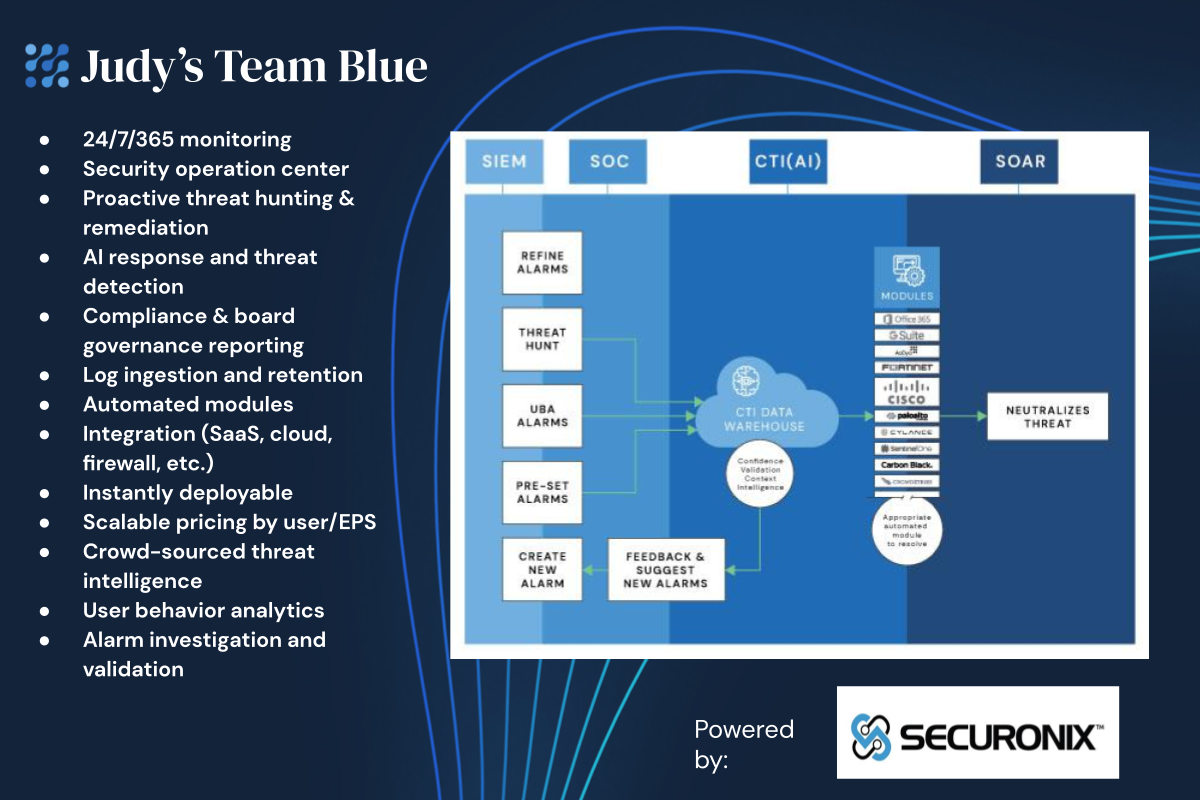 Risk Detection Technology
Judy at AaDya Security can provide 24/7 back-end risk detection and front-facing data-protection management using artificial intelligence and machine learning.
Individual Security Rating
Additionally, the technology creates individual security ratings for each employee and allows cybersecurity leaders to track the overall security health of the firm using a simple dashboard interface.
Furthermore, you may import previously saved passwords from other password management programs such as 1Password and LastPass.
Regular Safety Briefing
You'll receive actionable information about potential vulnerabilities through a regular safety briefing, which will include a password audit and advice for better logins.
And, because Judy is driven by machine learning and artificial intelligence, it is continuously improving the intelligence of its endpoint-detection reactions.
How to Use AaDya Security?
You need to download, install, and set up your account; the rest of the functionality has been integrated into a single lightweight browser extension. Judy's AaDya Security also has video tutorials for their users; you can set them up in no time by watching these videos.
AaDya Security Pricing
AaDya Security's basic plan starts with 14.0 USD / Month, and It can be up to 50.00 USD / Month. Here is the detailed pricing of AaDya Security.
But wait, AaDya Security is currently offering a Lifetime Deal on Appsumo. You can get AaDya Lifetime Deal only for $60 from App Sumo.
AaDya Security Lifetime Deal Pricing
Get an Extra 10% Discount on AaDya Security Lifetime Deal:
Follow the guideline to get a 10% Discount on AaDya Security Lifetime Deal on Appsumo –
Click Here and Go to the landing page of AaDya Security Lifetime Deal.
Wait some time (20-30 seconds) until the discount popup appear.
After appearing the discount pop up, enter your Email[Enter a New Email]
Check the mailbox[Both Inbox and Promotion Tab].
You will get a unique discount code for a 10% discount in the mail. Use this code on the coupon section at the time of purchase.
Make sure you buy the deal from the same Email on which you get the discount code.
Frequently Asked Question about AaDya Security
Can you import Passwords from 1password for ios?
Yes, AaDya Security do support import from 1Password
Can you export your passwords to a CSV file? What other export possibilities do you provide?
Not in CSV; The export file from our password manager is a . JSON file
where is the data stored?
However, although the password vault is kept on the cloud, it is encrypted and transmitted up at the local machine. Because it is encrypted, no one at AaDya Security can see what is in a user vault. AWS stores other types of data, such as EDR and threat information. We do not maintain any personally identifying information on our servers.
Can it be used across devices (pc, notebook, iPhone, Ipad)?
Judy's AaDya Security can use it on multiple computers simultaneously; at present, there is no mobile app, but one is on the way and should be done by the first quarter of 2022.
Is it synchronized across devices? Automatically? Manual?
It is synced across all devices automatically.
Can one use only parts of your service, e.g., only password manager?
Not really, it is required to use the whole package at the moment.
Does any data need to leave my device for you to provide the service? Can I control if and when this happens and for what data? Is the transfer encrypted?
Using machine learning, the AaDya Security team can assess whether or not a system is infected with a threat by gathering information about it. None of it contains any of your information, files, or anything else that may be used to identify you. Besides regular virus scanning, AaDya Security also offers file hashing, which compares the hashes of files on the system to those in the definitions file. If the hash matches one in the definitions file, the hash is sent to the cloud for further analysis.
Does Aadya support Linux for endpoints?
For the time being, the Judy platform is only compatible with macOS and Windows operating systems. It is not accessible for use with the Linux operating system.
Does this deal support have multiple organizations?
No.
Can you import from Bitwarden?
Currently, AaDya Security can import passwords from 1Password, LastPass, and Dashlane accounts, not from Bitwarden.
Do you have an Android app?
The mobile version for Android and IOS is currently on the product roadmap and is expected to be finished in Q122 of this year.
Does it support automatic fill-in of passwords?
Yes
What are the benefits of the AaDya Security Lifetime Deal?
You are getting AaDya Security for a lifetime. So you don't have to pay for every month. You can buy one time and use it rest of your life to generate unlimited words for your blog.
How to get a 10% Discount in AaDya Security Lifetime Deal in App Sumo?
Follow the procedures —
Step 1: To begin, click here, which will take you to the product page.
Step 2: After a few moments, you will see a popup with a 10% discount coupon.
Step 3: In the popup, enter a new Email address that you have never used in Appsumo.
Step 4: After submitting, take a few moments to check your mails [both Promotion and Inbox].
Step 5: You will receive an email from Appsumo with a unique PROMO CODE for a 10% discount on AaDya Security Lifetime Deal.
Step 6: Next, sign up for an Appsumo account using the same email address, and then click the "Buy Now" button on the AaDya Security Lifetime Deal product page.
Step 7: You will be sent to a page to enter your promotional code. Enter your coupon code below to receive a 10% discount right now.
So if the paramount price of the AaDya Security Lifetime Deal is $69, after getting a 10% discount, you can buy it for $62.1 for your Lifetime.
Is there a money-back guarantee in AaDya Security Lifetime Deal?
Yes, of course. You are getting 60 days money-back guarantee in the AaDya Security lifetime deal from Appsumo, no matter the reason. So buy it today and use it for the next 60 days. If you think it is not helpful, you can refund your full money within these 60 days.
Is it possible to get a free trial of the AaDya Security Lifetime Deal?
Both yes and no. You need to purchase it before, and you may use it for 60 days. If you don't like it after 60 days, you can get a refund without giving a reason. So it's sort of like a free trial.
Conclusion
You want to come up with fresh ideas for how technology may help your company succeed, not come up with new passwords for every corporate account. If I close my eyes for a moment, I see some unusual characters.
Judy, AaDya Security's automated cybersecurity solution, protects your organization against dangers such as hacking, phishing, and viruses, allowing you to devote more time to expand your business.
Protecting your brand and your bottom line from cyberattacks is essential.
Today is the day you get unlimited access to Judy from AaDya Security!
See more awesome lifetime deal offers here.