You may squander a significant amount of time collecting information from the audience. However, data collection was never easy to work.
Assume you could gather and arrange all of the data you require from your staff and clients in a single location. You can easily design dynamic forms and quizzes with its custom form builder.
If you want to improve your business, you need direct feedback. But if your forms are overly complicated, you're not going to get the responses you want. ("Why don't we be optimistic and say the surveys are half-full, not half-empty?")
Instead, start building forms that people actually want to fill out with Formaloo.
Featuring over 100 built-in templates, this no-code platform makes it easier than ever to design an unlimited number of engaging, branded surveys, quizzes, polls, and more.
Plus, Formaloo comes with powerful analytics tools that show you how to maximize your materials and put your data to good use. They've even got a mobile app, so you can stay on top of everything no matter where you are.
Start getting the feedback you can really work with.
This blog will review Formaloo Lifetime Deal, the all-in-one form builder for your business.
What exactly is Formaloo?
Formaloo is a drag and drops and no-code platform that allows users to create custom forms, quizzes, surveys, databases, and mobile applications up to ten times faster than with other tools.
Formaloo is an alternative to Typeform and Gravity forms.
Who can be benefited from Formaloo?
Formaloo is a great option for –
Marketing Team

HR Team

Course Creators

B2B Business Owners

People who need Lead Generation for their business

Features of Formaloo
Formaloo provides you with a no-code form and database builder that allows you to collect data from your team easily.
Let's take a look at what Formaloo has to offer.
Database and Forms Builder
Formaloo lets you create forms, databases, quizzes, surveys, and more without writing any code.
Forms can have sophisticated and powerful conditional logic, a calculator, and a database model.
Its workflow automation makes it easier for you to collect the information you need from your clients.
It's also possible to develop dynamic and interactive forms, live polls, and Q&As. Some examples include a fun quiz with your friends or assisting your students in their studies.
Also, Formaloo Lifetime Deal is offering you:
Creating unlimited forms

Getting unlimited responses

You can accept custom payments through the form of Formaloo

Realtime data analytics in CDP [Customer Data Portal]

10 GB Cloud Storage for every member

100+ pre-made templates

Responsive forms for Mobile, Tablet, Desktop, and all other device types.

SEO-friendly Forms.

You can get unlimited potential customers.

You can add team members.
Facebook & Instagram Retargeting
Your Facebook and Instagram ad campaigns will be automatically optimized, measured, and expanded by Formaloo. Codes, cookies, and privacy concerns are all taken care of.
Formaloo's advanced targeting choices and behavioral tracking allow you to contact potential customers on Facebook, Instagram, and Whatsapp, respectively.
Providing Facebook Conversion API without requiring any coding changes makes it easier to move away from Facebook pixels.
Ad optimization by Formaloo helps you reach new heights while maintaining a lower cost per acquisition (CAP). It will significantly impact your 47 percent conversion rate and 2.73x revenue growth, respectively.
Last but not least, you may use Formaloo to integrate your website, landing page, or form with the Facebook Conversion API.
CDP: Customer Data Platform
With Formaloo's CDP, you can transform the data of your customers into revenue. You can integrate Formaloo AI and Customer Analytics with your apps and data sources. WordPress, Shopify, WooCommerce, Microsoft Dynamics, Google Sheet, Magento, HubSpot, Salesforce, and many more platforms can all be integrated with Formaloo.
It will help you reduce churn and increase the lifetime value of your customers.
Customer Data Platform (CDP) will dramatically increase customer loyalty and revenues by 2.73 times. And most form builders in the market are not providing CDP on their own. One of the biggest differences between Formaloo and other form builder software is here.
The CDP is completely automated and does not require any resources to operate, such as Coding.
Custom Calculator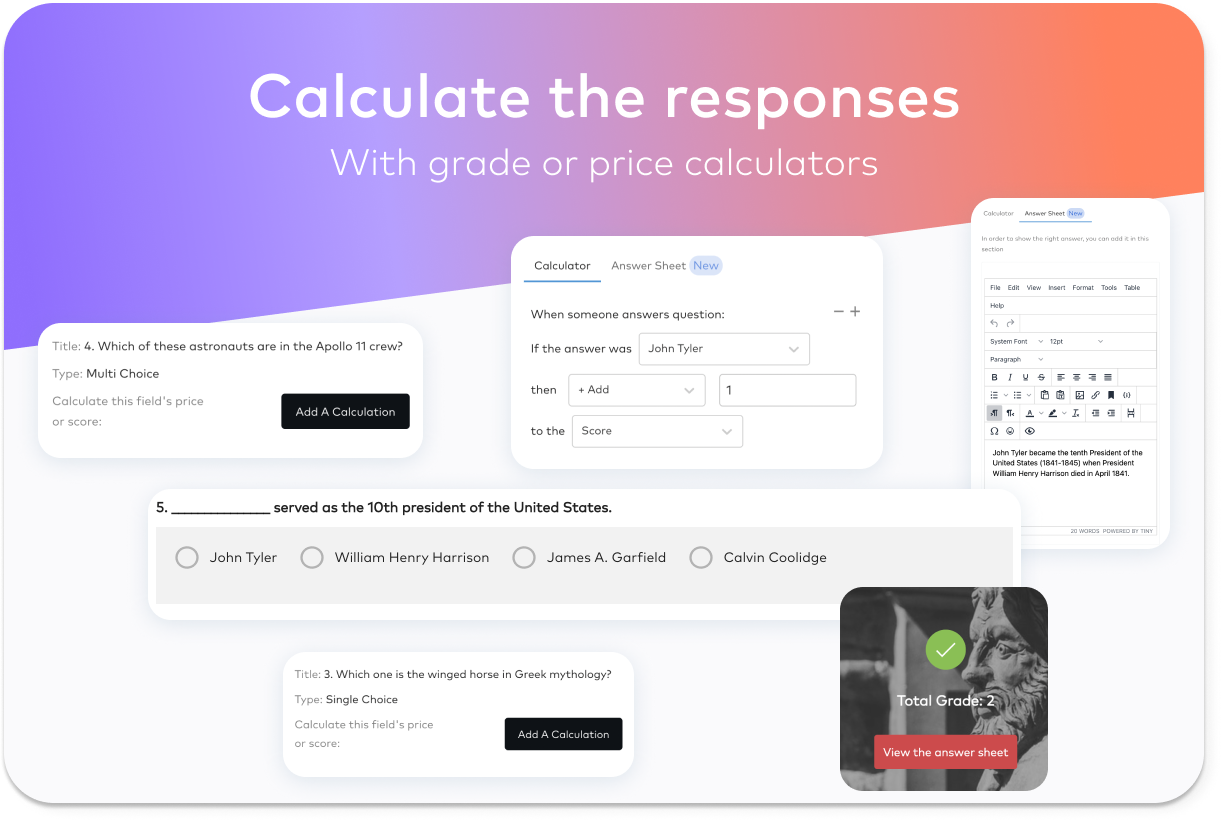 There is a variety of calculators available on Formaloo that you can use to enhance the engagement and interactivity of your forms, polls, and quizzes for your sales pages.
The grade calculator allows you to create intelligent quizzes with custom grades, points, and algorithms. You may also incorporate a payment or pricing calculator to tally and collect outstanding payments.
WordPress Plugin
Finally! Last but not least, Formaloo allows you to create visually attractive quizzes, surveys, and database forms that can be integrated into an unlimited number of websites. Create as many forms and widgets as you want using Formaloo's drag-and-and-drop form builder, which is completely free.
So Formaloo is a data collecting and analysis tool embedded right into the form builder, so you're not just getting another tool to fill out forms with. Creating, editing, and sending quizzes, forms, and surveys is a breeze with Formaloo. You can keep track of your progress, use 100+ beautiful and interactive template designs, and more.
Payment Gateway Integrations
There are several ways to collect payment from people via Stripe and PayPal and several other payment gateways.
Unlimited Logic Builder and Visual Representation
For additional assistance in gathering the information you require from your audience, Formaloo makes it possible to use strong conditional logic and automated business features.
Easily create incredibly smart forms with an unlimited number of logic jumps and conditions, as well as workflows, redirects, and branching.
Additionally, you have the option of connecting your forms as you develop relational forms or forms that work similarly to an application.
Suppose you want a logic like, if A happens, jump to C, otherwise jump to B. That is simple logic; you can do more complex logic in Formaloo.
Learn more about Formaloo by clicking here.
Presentation Mode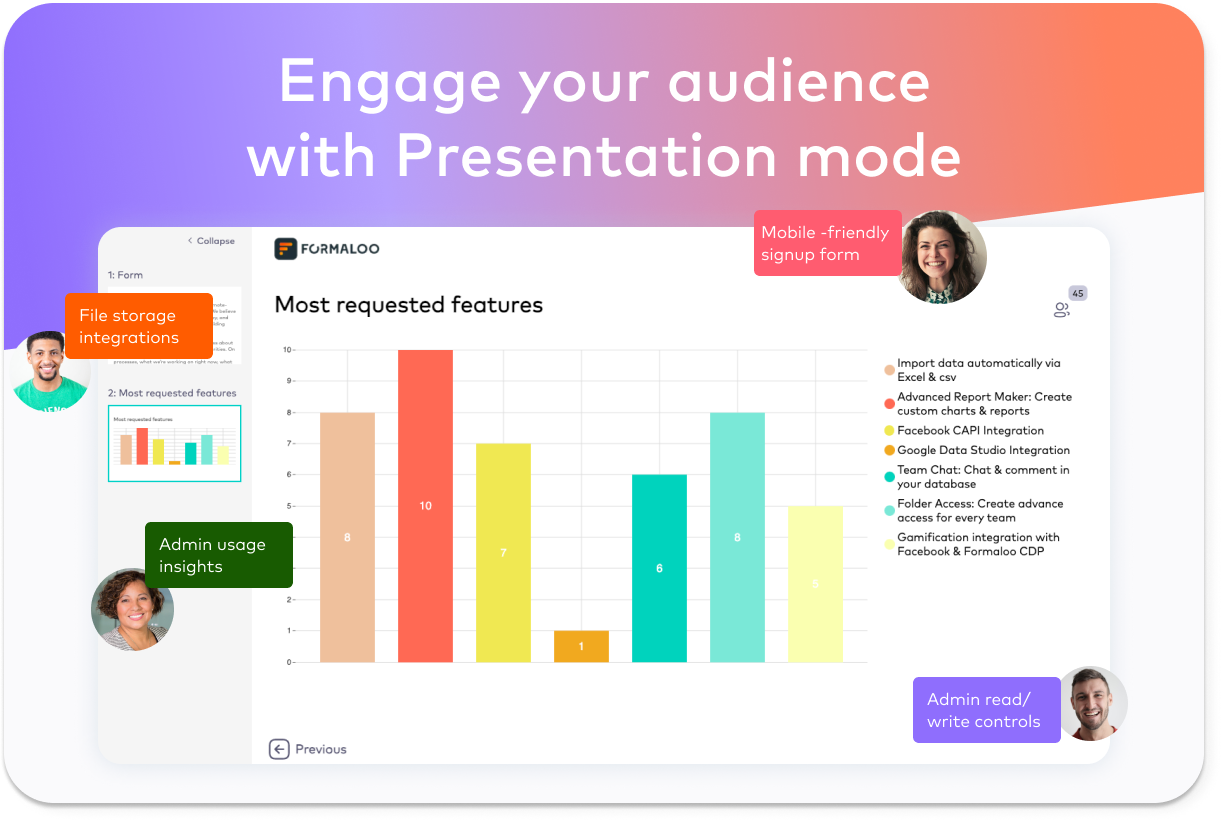 In the Formaloo dashboard, you will get a live presentations mode to present the data you are getting from your survey submissions forms. In presentation mode, Formaloo will interactively show your data. You don't have to design your data again to present; Formaloo will do all the works for you.
Types of Form Template has in Formaloo
Registration Form

Online Booking Form

Online Order Form

Fundraisers Form

Sales Form

Business Form

Event & Exhibition form

HR & People

Healthcare

Job Application

Lead Generation

Logic and Condition

Multi-Page

Quizzes

Remote Working Form

Single Page Form

Survey Submissions Form
After that, you can build unlimited types of custom forms for yourself.
Team Member Feature
To make collaboration easier, you can share forms with colleagues and control their level of access.
Also included will be the ability to create specific folders for each team and project and assign forms to team members to view or manage responses. Only the admin will have full access management.
Future BIG Update
Right now, you cannot use your custom domain in Formaloo form builder, but don't worry, very soon, this feature will arrive by which you can easily use your domain for your business.
Formaloo Regular Pricing
Formaloo regular pricing starts with $19 per month per user. And it can be more than $49/month/user. See the full pricing.
But the good news is, Formaloo is offering you a Lifetime Deal plan in Appsumo right now; you can get the lifetime deal only at $59 and get lifetime access to use Formaloo.
Formaloo Lifetime Deal Pricing
Formaloo lifetime deal pricing starts from $59 only. But you can get a 10% discount on this. See Formaloo Lifetime Deal pricing:
Formaloo Lifetime Deal Features
Unlimited databases, forms, and apps

Unlimited records, responses, and views

Unlimited pages, blocks, and fields

Branding removal

Add your logo

Create a subdomain
Get an Extra 10% Discount on Formaloo Lifetime Deal:
Follow the guideline to get a 10% Discount on Formaloo Lifetime Deal on Appsumo –
Click Here

and Go to the landing page of Formaloo Lifetime Deal.

Wait some time (20-30 seconds) until the discount popup appear.

After appearing the discount pop up, enter your Email[Enter a New Email]

Check the mailbox[Both Inbox and Promotion Tab].

You will get a unique discount code for a 10% discount in the mail. Use this code on the coupon section at the time of purchase.

Make sure you buy the deal from the same Email on which you get the discount code.
Frequently Asked Questions about Formaloo
How many websites can I use for one Formaloo Lifetime Deal?
You can use an unlimited website.
Is it possible to sell a product or service from a Formaloo form using Stripe or PayPal?
Yes! With the "Product Field" of Formaloo, you can create effective forms for goods and product catalogs with albums.
Does the Appsumo deal also include the WordPress plugin?
Yes.
In how many websites can I use one plugin?
You can use one WordPress plugin on an unlimited website.
Can I get clients' testimonials and reviews through Formaloo?
Yes, you can build testimonials and review submissions forms in Formaloo. To do this, build a form and invite people to answer your questions; you can even ask them to attach photographs or video instructions if you choose.
Does Formaloo provide spam protection features?
Formaloo provides you Invisible bot/spam protection on all forms.
Is it possible to receive form abandons from Formaloo?
Currently, this is not possible; however, partial submissions and autosaves will be available very soon.
What if I reach my storage limit?
You can always purchase more.
Can we manage sensitive data such as credit card numbers or social security cards like Formstack does?
Yes, Formaloo has an integration with Stripe; thus, it is PCI compliant in this regard.
Can I integrate Formaloo with Vbout?
At present, you can do it by using Zapier. In-house integration is coming soon.
Is there a way to make the form printable and downloaded in PDF format?
Yes, you can download and print your survey results.
Is it possible for users to sign forms? Is the use of signatures permitted in all states?
When using the Formaloo Android app, signatures can be legally binding.
What are the benefits of the Formaloo Lifetime Deal?
You are getting Formaloo for a lifetime. So you don't have to pay for every month. You can buy one time and use it rest of your life to generate unlimited words for your blog.
How to get a 10% Discount in Formaloo Lifetime Deal in App Sumo?
Follow the procedures —
Step 1: To begin, 

click here

, which will take you to the product page.

Step 2: After a few moments, you will see a popup with a 10% discount coupon.

Step 3: In the popup, enter a new Email address that you have never used in Appsumo.

Step 4: After submitting, take a few moments to check your mails [both Promotion and Inbox].

Step 5: You will receive an email from Appsumo with a unique PROMO CODE for a 10% discount on Formaloo Lifetime Deal

.

Step 6: Next, sign up for an Appsumo account using the same email address, and then click the "Buy Now" button on the Formaloo Lifetime Deal product page.

Step 7: You will be sent to a page to enter your promotional code. Enter your coupon code below to receive a 10% discount right now.

So if the paramount price of the Formaloo Lifetime Deal

is $59, after getting a 10% discount, you can buy it for $53.1 for your Lifetime.
Is there a money-back guarantee in Formaloo Lifetime Deal?
Yes, of course. You are getting 60 days money-back guarantee in the Formaloo lifetime deal from Appsumo, no matter the reason. So buy it today and use it for the next 60 days. If you think it is not helpful, you can refund your full money within these 60 days of purchase.
Is it possible to get a free trial of the Formaloo Lifetime Deal?
Both yes and no. You need to purchase it before, and you may use it for 60 days. If you don't like it after 60 days, you can get a refund without giving a reason. So it's sort of like a free trial.
Conclusion
The process of interacting with your audience through efficient forms should not feel like you're waiting for your crush to check "yes" on a blank piece of notebook paper. 
Create infinite personalized forms, smart quizzes, polls, and surveys using a drag-and-drop builder, and then share them with your team with a single click of a button using the Formaloo platform.
Create forms that users will genuinely like to fill out and submit.
Want to build a Link bridge for your business? Get Tapps Lifetime Deal.