According to the survey between more than 100 marketers, business owners, and freelancers, what they want most in 2022 is "More Customers"! So you also want more potential customers in 2022, right?
But in a world of AI content creation, high advertising costs, and massive influencer partnerships, it's tough for regular folks like you to stand out. Fortunately, I've found your secret weapon. Something so revolutionary that your competitors won't realize you're using it until you've already left them behind.
Today, I'm going to introduce you to Blogely, the unified blog management app that lets you synchronize your entire blog site to improve, organize, optimize, and keep your content up to date.
Let's do this!
Blogely At A Glance: Why You Need it?
After work, you will get more time
Research is the first step to creating valuable content in any niche. That won't ever change. Usually, you'd punch keyword ideas into a keyword planner, pull up the top results on Google, and start scanning through those articles, right? Right. With Blogely, you can pull search engines results right from this research dashboard. This already saves you hours of time, but it doesn't stop there. So Blogely saving your valuable time.
All in one solution of Content Writing
Build your outline quickly using analysis based on what's working for your competitors. You will get a list of questions that your audience is responding. You also get access to a complete competition analysis based on your keywords. That means you can coordinate every step of your research to maximize your rankings. With research out of the way, it's time to get to writing! You can compile research documents without wasting hours sifting through articles. Your research documents are available within the text editor while you create your great content. So You are getting all in one place in Blogely!
Side by Side View
The side-by-side view minimizes the amount of time you spend switching between tabs, craning your neck to check your second monitor, or referencing info across multiple websites.
Integrated Image Library and Built-in Plagiarism Checker
You also get access to a library of assets sourced from Giphy, Pixabay, or you can upload your own. After that, schedule your content on the calendar, navigate to the finalized version of your doc where you can run a plagiarism scanner, then hit the little blue "Publish" button to send the article out to your WordPress site or whatever other CMS you've got connected to your account. So you don't need to use other tools to get your images and check plagiarism of your content in Blogely.
Plus, within Blogely, you also get access to the Workflow tool, where you can systematize your process, so you're able to pump out mad content quickly. The workflow resembles the mini-project of any article. It's the basic view of the process steps required to complete the blog post from start to finish. The workflow allows the team owner to define specific actions for each step of the blogging process, assign users, and schedule due dates. And that's it. Want to crank out blog content fast? Go ahead and grab it today! There's no easier way than Blogely.
So, What is Blogely?
Blogely is a tool for making and managing media-rich content. It lets you do research, write, and put up content in any language you want to.
It allows you to produce high-quality material more quickly and easily. You can create and distribute fresh material that performs well in search results with full content marketing software. Through the use of Blogely, anybody with a basic understanding of SEO will be able to quickly and easily increase their website's traffic.
Blogely is a service that competes with Contently and Upwork. Blogely is also an alternative to StoryChief.
Who Must Need Blogely?
Blogely is best for the –
Online Creators
Content Teams
Bloggers who want to build high-quality content that increases traffic.
With Blogely, you'll be able to create high-quality, unique material quickly and easily post it to your WordPress or any website. It will help you get more website traffic by optimizing written content for Search engine optimization in just a few minutes without any technical skills.
Blogely includes a plethora of features that will enhance the effectiveness of your blogging adventures. Consider a few of the most essential aspects.
What Benefits Can You Gain Using Blogely? ⛳
✅ Make high-quality content more quickly and easily.
✅ Publish articles quickly without having to deal with the complexities of WordPress.
✅ All of your blogs will be linked together.
✅ The easiest way to turn your whole blog into something else: It only takes a few seconds to import old content that needs to be improved, add multimedia, make it SEO-friendly, and republish it with one click.
✅ Save time and stress by not having to search for your content in Google or Word documents anymore.
✅ Use detailed Research Docs to collect snippets, give answers, statistics, and look at keywords.
✅ Keep all of your research, files, notes, multimedia content, links, backups, and more in one place.
✅ Work together easily and manage the entire content creation process and team workspace.
✅ Show off and share your elegant content portfolio to find clients faster.
✅ Host your content portfolio for free and save money (CNAME)
✅ Do less that isn't needed. Create once and put it out everywhere. Connect Medium, Ghost, Blogger, and a lot of other things (Shopify pending).
✅ Schedule and plan content better with an editorial calendar that is easy to read and understand
✅ Make your content search engine-friendly in just a few minutes with this simple tool. It doesn't matter if you have any technical skills.
✅ In this case, you can sell your content that's ready to go and make money.
✅ If you want to save time, you can buy articles that are already written and ready to go out.
Blogely Key Features
I've summarized the most essential Blogely functions here.
SERP Result
In just a few seconds, you can get the top 100 SERP results using Blogely, and you can swiftly compile those content.
Writing Application
To make your writing process more interesting, Blogely provides you with a writing application.
You may utilize blocks to construct an outline that keeps you organized and focused while you write.
Drag-and-drop allows you to rearrange elements to create a seamless flow in seconds. It is a combination of a filter and a Table of Contents.
Blogely is an entire organization that allows you to work in split-screen mode, writing more quickly and efficiently.
Finally, it offers more than just a feature-rich text editor for displaying text on the screen.
Research Documents
You'll get summaries of the first 100 search results in Blogely. You can keep a detailed record of every search that you perform.
Blogely enables you to produce research docs separate from your articles and can be shared with others.
Cutting and copying are unnecessary when placing and formatting your information with a few simple clicks. Create your research in the same manner as you would an article.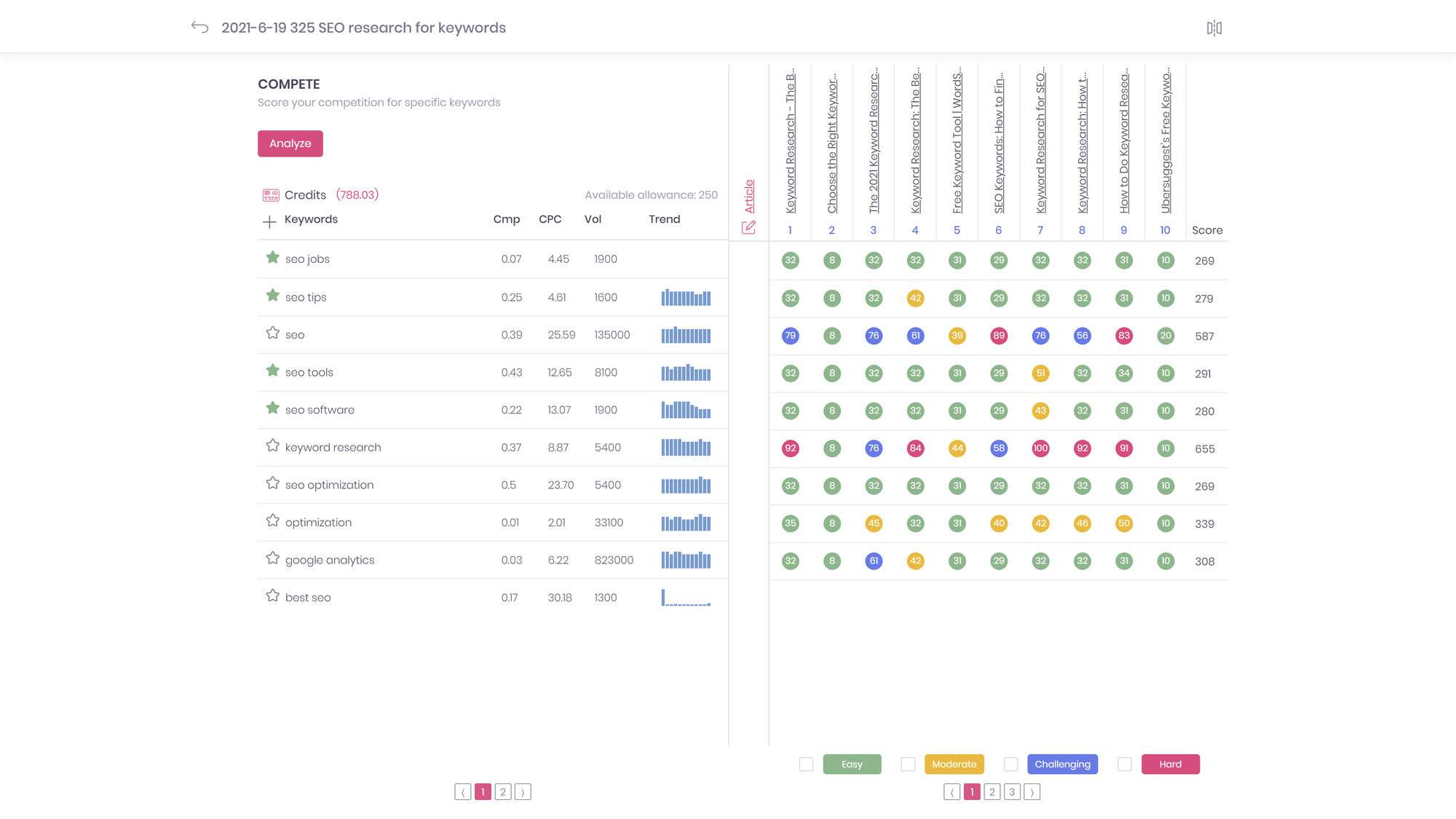 SEO Heatmaps
It's easy to find your essential keywords in Blogely because they're all focused on your post.
You can find words that are related to the seed keyword.
What people are entering into Google searches.
What inquiries are being asked about a particular subject;
You can also see the other ideas our engine may come up with.
With Blogely, you can locate relevant and autocomplete terms with your specialization. Autocomplete keywords are terms that appear in search results relevant to the keyword you're pursuing. You may create SEO heatmaps at the end of the process after identifying your competitors and gathering keywords.
SEO Optimization
Blogely simplifies on-page SEO by optimizing your content like a professional without the need for any technical knowledge.
If you only follow the three-step workflow directions of optimization information, you will complete the task. (But my suggestion is to use RankMath or Yoast SEO free plugin with Blogely in case of On-Page SEO).
Blogely provides a complete analysis that reveals areas where you may make improvements to boost SEO performance. Finally, you will receive a detailed SEO score report that will assist you in estimating your ranking position.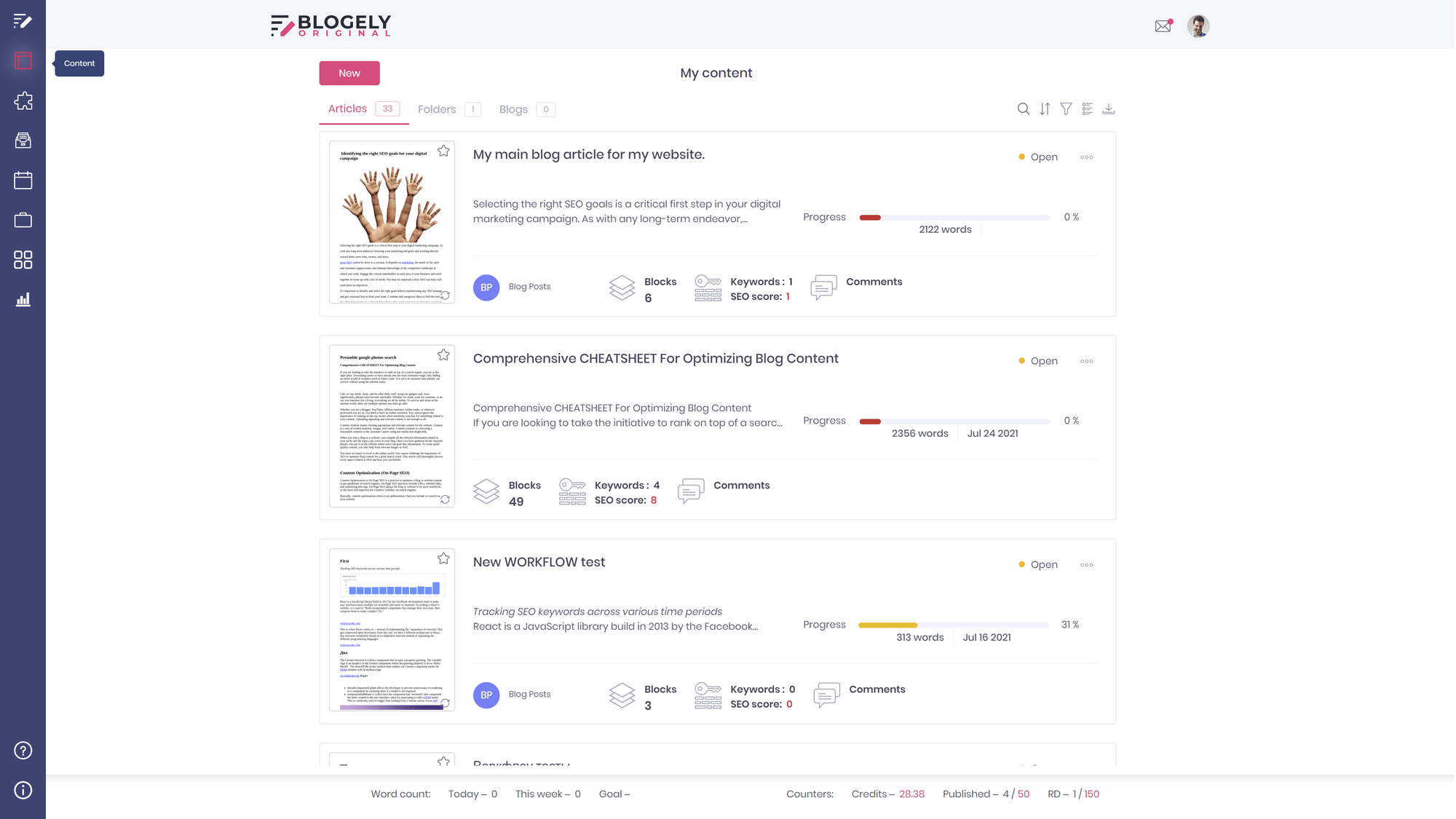 Buy or Sell Ready to Publish Content
Can't find what you want? Find freelance talent, review their biography and portfolio, and then invite them to write an article for your website or blog.
Using Blogely's content marketplace, you can go from purchase to publication in less than two minutes. Here, you may purchase unique content that is ready to publish.
Blogely's marketplace allows you to sell your unique articles to organizations who are looking for ready-to-publish original content.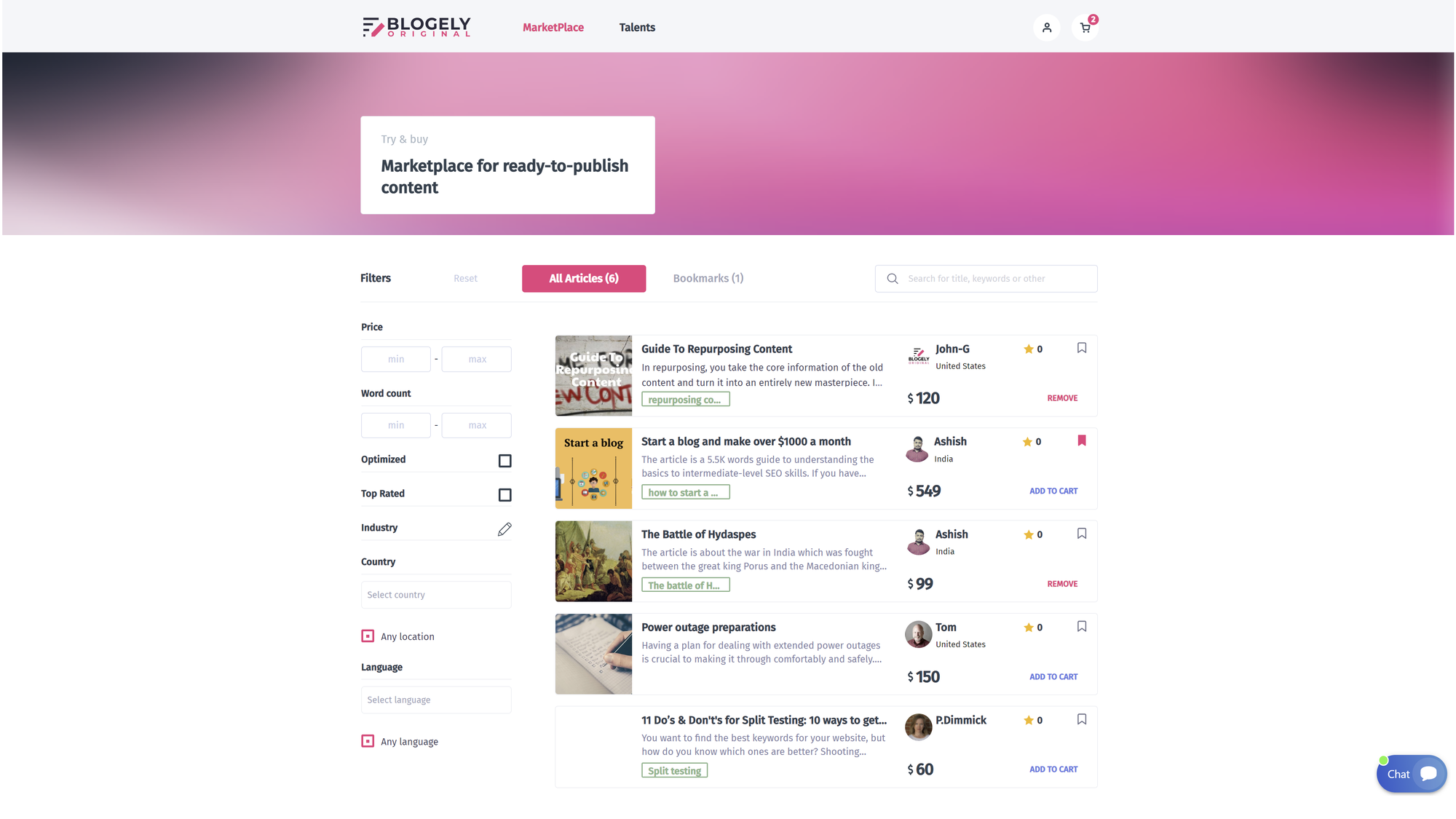 Integrated Plagiarism Checker
CopyLeaks, the most fantastic plagiarism checker available in the market now, is brought to you by Blogely. Using the software's plagiarism analyzer, you can prove your uniqueness more easily by its plagiarism report.
Furthermore, CopyLeaks Plagiarism Checker can analyze text online and search extensively throughout the internet and numerous databases to locate information that is almost identical to the original articles.
The integrated plagiarism checker of Blogely can provide you with only the most relevant findings once it scans your work.
By utilizing artificial intelligence and machine learning technologies, it finds many similarities throughout the internet, including identical, similar, and paraphrased content technologies.
Full Blog List Sync
Bring up your whole blog post list in a matter of seconds. Use this list to choose and import articles that need to be improved, optimized, or completely revised in the future.
Content Calendar
With an editorial calendar, you can plan your material in advance. To make changes to your publication schedule, simply drag & drop blocks.
Team & Workflow Feature
Blogely allows you to manage the team's work by creating workspaces—a location where all team members may access, participate in, and reply to tasks that have been given to them.
Workflows, which explain the procedures necessary to complete a post from beginning to end, allow you to get a bird's eye perspective of the current project state. In fact, you can even use them as templates!
Workflows let the team administrator create precise actions for each phase of the blogging procedure, and also assign individuals and set due dates for those tasks.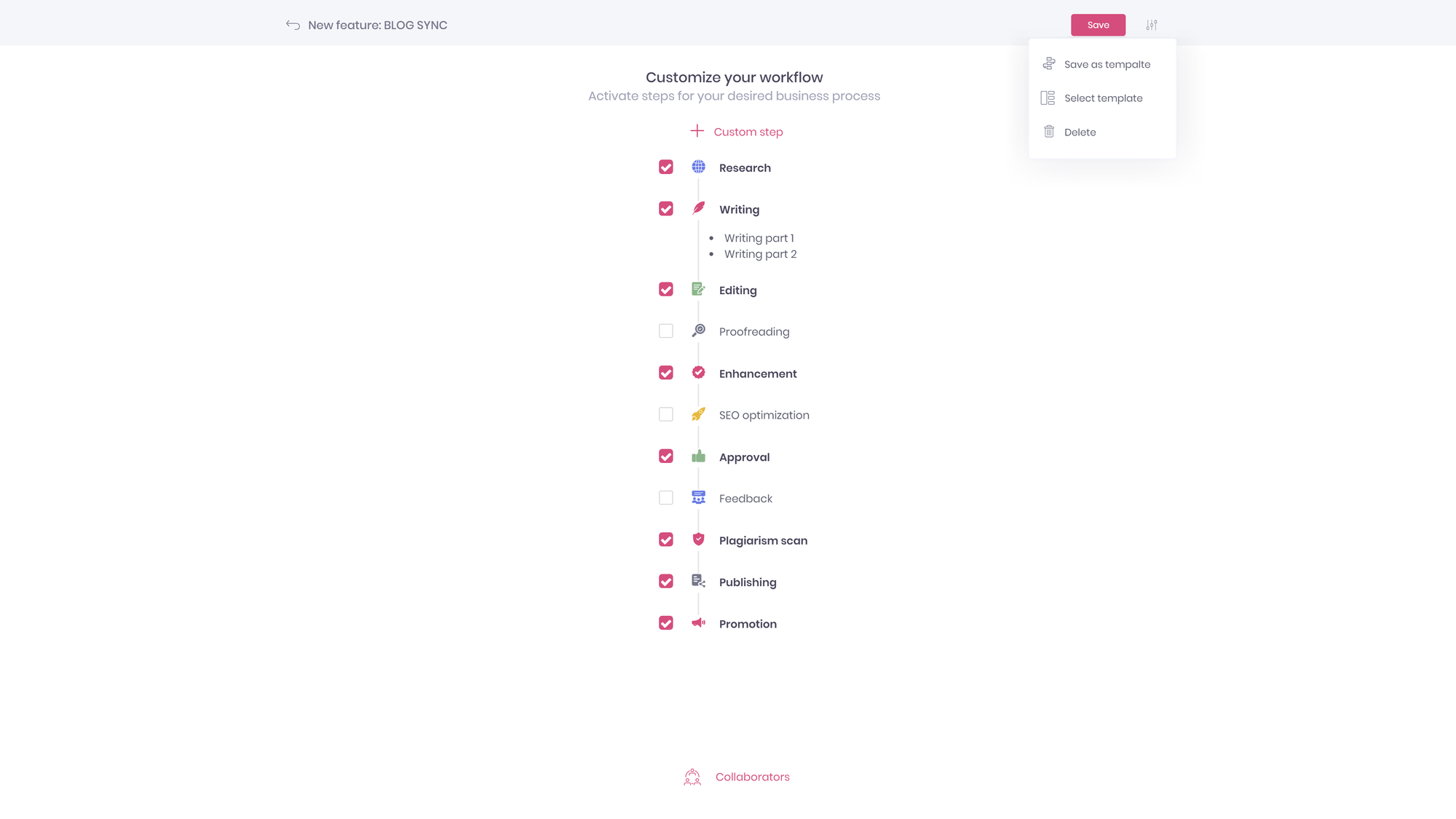 Publishing Tool
After you've finished formatting and optimizing your material, it's time to post it on your website.
Put an end to the time-consuming and challenging learning curve associated with posting to a WordPress website. WordPress isn't the only thing you can use with Blogely's single interface. You can also use it to post to multiple places.
These are not the conclusion of the story; there are several features. With a single click, publishing is now easier than ever before. Here are only a handful of the most important characteristics that I mentioned.
Blogely Regular Pricing
Blogely offers five different price options.
Free, Freelancer, Starter, Solo, and Growth are all terms that may be used to describe a person or a company.
Blogely Lifetime Deal Pricing
You can get a lifetime access to Blogely from Appsumo is only $79 (Plus, a 10% Discount for you). The Lifetime Deal pricing of Blogely starts from $79 and it can be up to $790 depending on your business size and need. Here is the full pricing plan of Blogely Lifetime Deal.
Blogely Lifetime Deal Features:
Unlimited articles
Unlimited notes and library
Editorial calendar
Versioning and templates
Backups and historical tracking
SEO optimization and keywords
SEO recommended topics
Workflow management
Feedback and social sharing
Blog list sync
1 owner account
Get an Extra 10% Discount on Blogely Lifetime Deal
Follow the procedure:
Click Here and Go to the landing page of Blogely Lifetime Deal.
Wait some time (20-30 seconds) until the discount popup appear.
After appearing the discount pop up, enter your Email[Enter a New Email]
Check the mailbox[Both Inbox and Promotion Tab].
You will get a unique discount code for a 10% discount in the mail. Use this code on the coupon section at the time of purchase.
Make sure you buy the deal from the same Email on which you get the discount code.
Frequently Asked Question about Blogely
Is there a restriction of 150 research documents each month for each portfolio/workspace or is there a limit of 150 research documents per account?
All restrictions apply to a single account. The number of seats has absolutely nothing to do with the account holder's constraints. Credits can be used to purchase additional monthly searches if they are necessary.
When it comes to the 250 SEO monthly heatmap credits, is it for a single site, a portfolio/workspace, or a single account?
The amount of time allotted for SEO heatmaps is similarly fixed, and if you want extra time, you may purchase it with credits.
How many CNAMEs are required for the maximum stacking plan?
It may be used for Portfolios, which means it can be set up under a subdomain of your choice. CNAME may be used to build up as many portfolios as you have on your server.
What are the benefits of the Blogely Lifetime Deal?
You are getting Blogely for a lifetime. So you don't have to pay for every month. You can buy one time and use it rest of your life to generate unlimited words for your blog.
How to get a 10% Discount in Blogely Lifetime Deal in App Sumo?
Follow the procedures —
Step 1: To begin, click here, which will take you to the product page.
Step 2: After a few moments, you will see a popup with a 10% discount coupon.
Step 3: In the popup, enter a new Email address that you have never used in Appsumo.
Step 4: After submitting, take a few moments to check your mails [both Promotion and Inbox].
Step 5: You will receive an email from Appsumo with a unique PROMO CODE for a 10% discount on Blogely Lifetime Deal.
Step 6: Next, sign up for an Appsumo account using the same email address, and then click the "Buy Now" button on the Blogely Lifetime Deal product page.
Step 7: You will be sent to a page to enter your promotional code. En er your coupon code below to receive a 10% discount right now.
So if the paramount price of the Blogely Lifetime Deal is $59, after getting a 10% discount, you can buy it for $53.1 for your Lifetime.
Is there a money-back guarantee in Blogely Lifetime Deal?
Yes, of course. You are getting 60 days money-back guarantee in the Blogely lifetime deal from Appsumo, no matter the reason. So buy it today and use it for the next 60 days. If you think it is not helpful, you can refund your full money within these 60 days of purchase.
Is it possible to get a free trial of the Blogely Lifetime Deal?
Both yes and no. You need to purchase it before, and you may use it for 60 days. If you don't like it after 60 days, you can get a refund without giving a reason. So it's sort of like a free trial.
Conclusion
Blogely walks you through every stage of the process of writing, from managing your research materials to distributing your finished material across several platforms and social media channels.
Never again will you be stressed about meeting a deadline.